This is an archived article and the information in the article may be outdated. Please look at the time stamp on the story to see when it was last updated.
Two Riverside County animal control officers were being credited with helping a dog whose head was stuck inside a large plastic jug amid scorching heat on Thursday.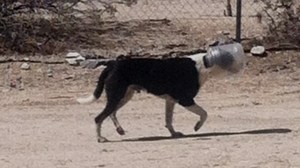 A concerned resident discovered the dog, a black-and-white male Labrador-shepherd mix, roaming the Sky Valley area with its head inside the container, a news release from the Riverside County Department of Animal Services stated.
Once animal control Lt. Luis Rosa and Officer Gerald Duchene caught up with the dog, they were forced to use a tranquilizer dart because he would run away whenever they got near.
"Once the dog was sedated, Officer Duchene was able to easily remove the dog's plastic prison," the release stated.
Duchene then carried the dog back to his vehicle and took the pooch to the Coachella Valley Animal Campus in Thousand Palms, where he was examined.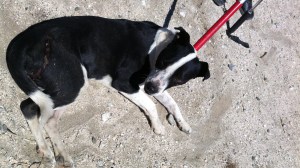 The dog appeared to be in good health, despite the fact that he had a plastic container on his head in triple-digit heat for an unknown amount of time.
"We do not know how long he had that thing on his head, but it couldn't have been a comfortable situation in this terrible heat," Lt. Rosa said in the news release. "He wouldn't have lasted much longer in this heat. He would not have been able to eat or drink as long as that jug was on his head. We're very happy we were able to help him out of a jam."
The contained was described as the type that is usually found in stores and filled with food. Officials were urging people to help avoid the type of "sticky situation" the unnamed dog found himself in from happening by not littering.
"Not only is littering terrible for the environment, but our pets and wildlife get curious and sometimes that curiosity can lead to serious injuries, or even death, all because of the trash people discard," Animal Services Commander Rita Gutierrez stated in the release.