This is an archived article and the information in the article may be outdated. Please look at the time stamp on the story to see when it was last updated.
All evacuations have been lifted after a wind-driven brush fire that erupted near downtown Riverside Thursday morning burned about 50 acres, according to authorities.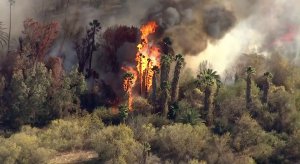 The fire has stopped spreading as of Thursday evening, Cal Fire Chief John Hawkins said.
The fire started at around 11:15 a.m. at the Santa Ana River bottom near Mission Inn Avenue and Redwood Drive, the Riverside Fire Department said.
"With the winds, it spread pretty quickly," the Fire Department's Dave McClellan said in a news conference.
The fire was burning near the popular hiking area around Mount Rubidoux, a city park. The cause was under investigation.
No homes have been destroyed, but two structures were "slightly damaged," McClellan said.
Mandatory evacuations were issued for residents on Indian Hill Road, Glenwood Drive, Miramonte Place, Loring Drive and Mt. Rubidioux Drive, according to the Fire Department.
The evacuation center at Dales Senior Center closed Thursday evening with residents returning home or finding other accommodations, the city of Riverside's Office of Emergency Management said in a tweet.
Riverside Police Department officer Ryan Railsback said authorities were assisting with traffic control and mandatory evacuations during the blaze.
Riverside County Department Animal Services responded to the area to assist people who have animals, Railsback said.
A fixed-wing aircraft and a helicopter were making airdrops on the wind-driven blaze, according to Railsback.
Riverside Unified School District schools were not threatened, the district said in a Facebook post at 1:11 p.m. Outdoor activities were restricted at schools affected by the fire.
This is a developing story. Please check back frequently for updates.