This is an archived article and the information in the article may be outdated. Please look at the time stamp on the story to see when it was last updated.
A business owner in Riverside is hoping surveillance footage will help authorities find the arsonist who has set his liquor store on fire five times over the last several months.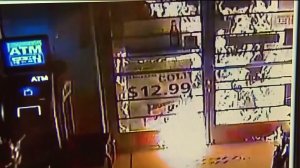 Jalid Singh Rana, owner of Sunny Liquor & Market, said the attacks on his liquor store began 10 months ago when he first bought the store.
An arsonist can be seen on surveillance camera walking through the parking lot with a gas can on his shoulders and seconds later pouring gasoline in front of the store's entrance, lighting it on fire and running off.
The most recent fire was set on Friday at the liquor store located in the 4800 block of Tyler Street.
Rana, a father of two, said he is frustrated and worried about his livelihood.
"I don't know why he keeps doing it over and over," Rana told KTLA.
Rana said the attacks leave the doors and windows to the liquor store engulfed in flames, and has cost him thousands of dollars to repair.
Rana said he doesn't have any enemies and is uncertain why his business is being repeatedly targeted.