This is an archived article and the information in the article may be outdated. Please look at the time stamp on the story to see when it was last updated.
A Navy sailor suspected of fatally stabbing his girlfriend was apprehended Monday morning after allegedly leading authorities on a pursuit from San Diego to Riverside, according to authorities and news reports.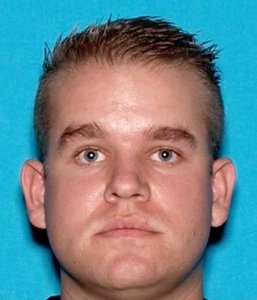 Jared Bischoff, 25, of Riverside, was being held without bail on suspicion of murder, according to online records. Citing the U.S. Navy, the Los Angeles Times identified Bischoff as a sailor who enlisted in February 2013.
At about 5:15 p.m. Sunday, a caller to the Riverside Police Department reported a possible domestic disturbance between a man and woman near the intersection of Calmhill Drive and California Avenue in Riverside, a statement from the agency said. Police officers were simultaneously flagged down near an injured woman at the same location.
The officers discovered the woman lying unconscious in the street, suffering from multiple stab wounds, the news release said. Paramedics transported the victim to a hospital, where she later died. Her name was not immediately released, pending notification of family.
Detectives from the Riverside Police Department's Robbery-Homicide Unit responded to the crime scene and took over the investigation, according to authorities. They were assisted by forensics technicians, as well as officials from the offices of Riverside County's district attorney and coroner.
"The investigation revealed the suspect met with his girlfriend at (the) intersection, where he stabbed her several times causing her death, then fled the area," the police statement said.
Using information received from Riverside police, officers from the San Diego Police Department located Bischoff in their jurisdiction and a chase ensued, the news release said.
"Bischoff fled in his vehicle through San Diego to the 15 Freeway, where the California Highway Patrol eventually took over the pursuit," the statement said. "The pursuit continued to the 91 Freeway, where Bischoff exited at Madison Avenue."
The chase made its way onto surface streets, where it was taken over by Riverside police before coming to an end in the area of Rubidoux and Grand avenues. Bischoff surrendered peacefully, according to authorities.
Anyone with information about the case is urged to call Detective Adrian Tillett of the Riverside Police Department at 951-353-7105 or Detective Jim Simons at 951-353-7138.
Correction: An earlier version of this article incorrectly reported the pursuit ended in Murrieta. The post has been updated.