This is an archived article and the information in the article may be outdated. Please look at the time stamp on the story to see when it was last updated.
An 18-year-old man was arrested on suspicion of robbery after he allegedly stole money from a lemonade stand being operated by two teen girls in Rancho Cucamonga, authorities said Thursday.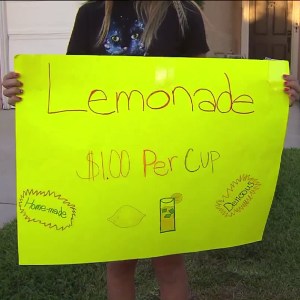 The girls, both 13 years old, were operating the stand in the area of Mountain View Street and Terra Vista Avenue about 3:45 p.m. on Wednesday when they were approached by the suspect, Santini Tate, a news release from the Rancho Cucamonga Police Department stated.
Tate told the girls he had no cash, but wanted a cup of lemonade. After the girls gave him one, he walked away.
But within moments, the Riverside man turned around, pushed the stand over, grabbed their money box and then ran off, the release stated.
The brother of one of the girls confronted Tate a short time later and was able to recover the empty  box. However, the suspect was able to get away with the money, according to police.
Deputy Beau Butters responded to the area and, in less than 10 minutes, stopped Tate, who matched the description police were given of the wanted man, the release stated.
The girls were then able to positively identify the suspect. Tate was found to have been in possession of $30 in cash at the time he was apprehended, police said.
Tate was booked at the West Valley Detention Center on suspicion of strong robbery, according to the release.