This is an archived article and the information in the article may be outdated. Please look at the time stamp on the story to see when it was last updated.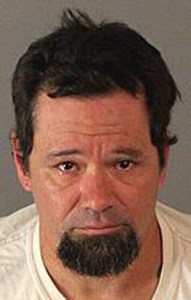 A Riverside man who was named as a suspect in a break-in at a Jurupa Valley animal shelter that resulted in the deaths of at least four dogs has been apprehended, authorities said Thursday.
The Riverside County Sheriff's Department announced shortly before 9 a.m. that 42-year-old Jason Ernest Johnson was taken into custody.
No details were immediately provided about the arrest, but Riverside County jail records showed he was booked into the Robert Presley Detention Center at around 7:25 a.m.
His arrest came less than 24 hours after authorities held a news conference naming Johnson — who is also known as Jason Neunzer — as a suspect in connection with the break-in at the shelter, which was discovered Sunday morning.
Shelter employees arrived to find blood-spattered walls and two small dogs dead inside the facility, according to John Welsh, a spokesman for the Riverside County Department of Animal Service.
The locks of about 22 kennels had been cut, and about a dozen dogs were initially reported to have been missing, he said.
Two other canines were fatally struck by cars following the break-on, according to Welsh. Several dogs were later located, but others were still missing by mid-week.
Authorities have not released a cause of death for the two dogs discovered at the shelter, but it did not immediately appear that they had been attacked by other canines.
"Their deaths do not appear to be consistent with bite wounds. In other words, the bigger dogs causing the injuries to the dogs," Welsh said on Sunday.
A warrant had been issued Wednesday for Johnson's arrest in connection with the incident. He was wanted on suspicion of felony burglary, animal cruelty and vandalism, authorities said.
Johnson was on probation in the county in connection with drug-related charges, according to the Sheriff's Department.
A bail amount was not immediately set for Johnson, jail records showed. It was also unclear when he would make his first court appearance.
Check back for updates on this developing story.