This is an archived article and the information in the article may be outdated. Please look at the time stamp on the story to see when it was last updated.
Police are trying to identify a man accused of sexually assaulting a girl in an enclosed dumpster area at a church in Riverside.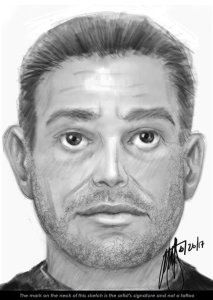 Officers responded to the report of a kidnapping and sexual assault on Sunday about 2:30 p.m. at the Church of Jesus Christ of Latter-day Saints, located at 5900 Grand Avenue, the Riverside Police Department said in a news release.
Investigators said the the man pulled the girl into the enclosed dumpster area and sexually assaulted her.
She was able to get away from him after the attack.
The Los Angeles Times reported that the girl was leaving a church service when the incident happened.
The man was described as a dark-skinned Hispanic, about 50 -years-old, with a goatee and short dark messy hair.
He was seen wearing a black T-shirt with vertical grey stripes and possibly had a tattoo on one of his arms.
Anyone who recognizes the man in the sketch was asked to call Detective Paul Miranda at 951-353-7945 or email at pmiranda@riversideca.gov.