This is an archived article and the information in the article may be outdated. Please look at the time stamp on the story to see when it was last updated.
A burglary was reported at the Saks Fifth Avenue in Beverly Hills Monday morning, police said.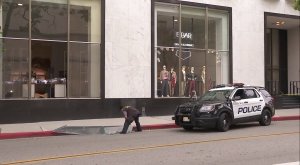 The incident occurred after 4 a.m. at 9600 Wilshire Blvd., according to the Beverly Hills Police Department.
Responding officers found a broken window at the men's store and began searching the scene.
The entire store front window was eventually taken out for the investigation.
Video from the scene showed a backpack outside of the store that appeared to have been taken from inside.
It is unknown what was taken during the burglary, but several cases inside the store appeared to be smashed or compromised, video from the scene showed.
KTLA's Alberto Mendez contributed to this story.