This is an archived article and the information in the article may be outdated. Please look at the time stamp on the story to see when it was last updated.
A 22-year-old robbery suspect who allegedly pointed an assault-style rifle at numerous people in Santa Ana and Tustin was arrested Thursday after a pursuit, police said.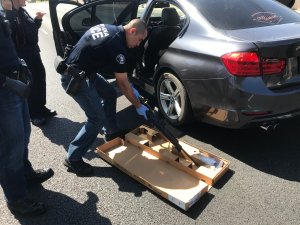 Gonzalo Barajas, of Santa Ana, was arrested after police received reports of a man pointing a rifle around 1:40 p.m. and authorities responded, said Santa Ana Police Department Cpl. Anthony Bertagna.
Barajas is accused of leaving his home in the 600 block of S. Ross Street in Santa Ana at 1:30 p.m. with the assault-style rifle, the Santa Ana Police Department said in a statement. He is then alleged to have pointed the weapon at multiple people in five locations in Santa Ana and at 20 people in three Tustin locations.
After searching on the ground and in an Orange County Sheriff's Department helicopter, police received a call about a man with a rifle at the Tustin Market Place, at 2961 El Camino Real, Bertagna said.
Police spotted the man as he was pulling out of a driveway and tried to stop him, but the man did not stop and a pursuit ensued.
The man--identified as Barajas--was eventually taken into custody.
During the crime spree, authorities allege Barajas robbed a 76 gas station at 1502 E. Edinger Avenue and escaped with $400 which was captured on video.
Authorities later found the rifle in the suspect's car, photos provided by Bertagna showed. The rifle was unloaded, the Santa Ana Police Department said in a statement.
Bertagna said the man's family had concerns about him recently and took his gun away. But Barajas was able to get his gun back on Thursday after telling family members he was going to sell it, Bertagna said.