This is an archived article and the information in the article may be outdated. Please look at the time stamp on the story to see when it was last updated.
Robert Durst, the eccentric New York real estate scion whose brushes with the law have made him repeated tabloid fodder, made his first court appearance in Los Angeles Monday and pleaded not guilty to a murder charge in the execution-style slaying of his friend, writer Susan Berman.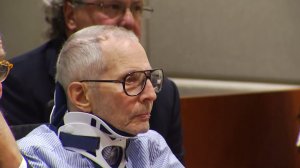 Durst, 73, entered the courtroom in a wheelchair, sporting a neck brace, wearing a blue and white striped shirt and khaki pants.
"I do want to say here and now though I am not guilty," he said in a hoarse voice. "I did not kill Susan Berman."
Durst is accused of carrying out the December 2000 shooting of Berman, a confidant who had befriended him while they attended classes at UCLA, because she was a witness to a crime.
Click here to read the full story on LATimes.com.