This is an archived article and the information in the article may be outdated. Please look at the time stamp on the story to see when it was last updated.
A memorial of balloons and candles sit at the scene of a crash in Tustin that killed a 17-year-old boy just two days earlier, as family and friends prepare for a prayer service later in the evening Sunday.
The crash also injured six other people, who ranged from 17 to 20 years old and were still recovering at nearby hospitals at least a day later, authorities said. It is unclear what the current conditions of those victims are.
Pedro Daniel Fuentes of Santa Ana has been identified by Orange County coroner's officials as the teen killed. He was pronounced dead at the scene Friday afternoon.
The deadly crash happened when an Infiniti M37 carrying seven people — although it's only meant to seat five — flipped over after crashing into a parked truck in Tustin. It occurred near Legacy and Tustin Ranch roads around 2:40 p.m. on Friday, police said.
Just before the crash, the sedan had lost control and hit a cement post while traveling east on Legacy Road, investigators said. It spun out of control, hit a parked rental truck and overturned, according to authorities.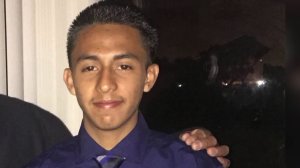 Fuentes was a passenger in the vehicle and family members have told KTLA it appears he may have survived if he was wearing a seat belt.
Meanwhile, the number of people inside the car has also become a point of interest.
Although it was carrying seven people, the car has just five seats, according to a description of the 2011 Infiniti M37 on cars.com. Family members also told KTLA the car is only supposed to seat five.
Relatives of the teen described him as a high school senior who loved his family and had a passion for learning. He had six siblings.
They said he and the other people in the car were heading home from school at the time of the crash.
"I wish I can wake up from it, but it's not a nightmare — it's reality," Fuentes' sister, Julie, said of her brother's death. "At times, you know, I feel like it's not even real. And it just hits me … he's really not here."
"It's my little brother. I'm never going to get him back," said another sister of the 17-year-old, Suset Quiroz.
In the moments after the crash, authorities had to extract the victims out of the damaged vehicle and transport six to nearby hospitals.
"Other people ran over and they tried to open the door on the right side and they couldn't get it open," witness Nicole Lombardo said. "All the kids in the car were screaming."
Authorities could not confirm the survivors' conditions. Police said the driver of the truck, who was sitting in the vehicle at the time of the crash, did not sustain any injuries.
Tustin – OCFA & Tustin PD on scene of a traffic collision on the 16000 block of Legacy. 6 patients transported, 1 DOA. Jaws of Life used to extricate patients. Tustin PD is Investigating incident. pic.twitter.com/FbZVprvdwS

— OCFA PIO (@OCFA_PIO) March 23, 2018
Speed might have been a factor in the crash, but the cause remained under investigation, according to police.
"There are speed limits, and there are seatbelt laws, passenger restrictions for vehicles for safety reasons," Lt. Robert Wright said.
A GoFundMe page has been created for Fuentes' family.
Correction: An earlier version of this story incorrectly stated the number of seats in the Infiniti M37 that crashed. The correct number of seats in the vehicle is five. The post has since been updated.