This is an archived article and the information in the article may be outdated. Please look at the time stamp on the story to see when it was last updated.
They met on a dating app in the summer of 2016. She was a skin care expert in her 40s who had recently filed for bankruptcy, he a widower who dabbled in acting and building model rockets.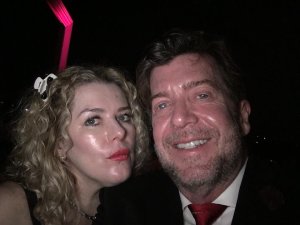 In the year and a half or so that followed, Ildiko Krajnyak, 48, and Stephen Beal, 59, traveled extensively — vacationing in Cuba, Portugal and Canada — and decided to open a day spa together in Aliso Viejo.
Their romance soured, authorities said, over disputes about money and their dating exclusivity. In February or March, they broke up, but decided to stay business partners. Beal paid the $1,500 monthly rent for the spa space and half its operating costs. Sometimes, if Krajnyak didn't make enough, he'd loan her the rest.
Krajnyak was killed Tuesday when a cardboard package blew up at the the Magyar Kozmetika spa, causing a fiery explosion that tore open the ceiling and buckled the floor. Body parts flew into the parking lot.
Read the full story on LATimes.com.