This is an archived article and the information in the article may be outdated. Please look at the time stamp on the story to see when it was last updated.
Three people received minor injuries in what was described as a "dust devil" event at the Rose Bowl on Wednesday, a day before the big game.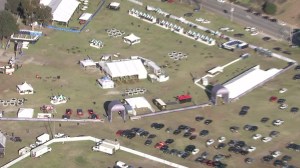 The incident occurred in the fanfest area outside the Pasadena stadium, according to Gary Knudson the CEO of AdSport, who shot the video and posted on YouTube. The video showed pop-up tents blowing into the air and debris circling overhead.
"The power it had to … lift up those tents and the huge inflatable and toss them around, it was really amazing," Knudson said.
The winds left people screaming and running, including one person dressed in a cow costume.
One person appears to catch the leg of a pop-up tent and then the individual falls to the ground as the wind pulls the tent
The incident was not a tornado but more like a "dust devil," Ryan Kittell of the National Weather Service said after viewing the YouTube video.
There were already strong winds in the area as a cold storm system lingered over Southern California, Kittell said.
Three people received minor injuries and a fourth had a slight injury to a finger, Pasadena Fire Department spokeswoman Lisa Derderian said.
All those hurt were treated at the scene, Derderian said.
The stadium will be the site of the annual Rose Bowl game on Thursday, New Year's Day.
KTLA's Steve Bien, Amrah Khan and Kennedy Ryan contributed to this article.
More Video:
http://instagram.com/p/xSUtMptZo-/