This is an archived article and the information in the article may be outdated. Please look at the time stamp on the story to see when it was last updated.
Ten years after an East Coast couple met on an online dating site and got married, they decided to visit Southern California and watch the 2014 Tournament of Roses Parade in person.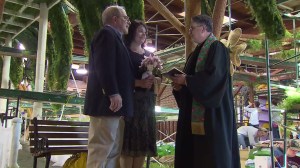 Little Did Judy Scherer know that her husband, John Scherer, would use the occasion as an chance for them to renew their wedding vows in a surprise ceremony.
As part of their trip, Judy thought they where simply taking a tour of the Rose Parade floats in Pasadena. When they got to the last float — built by eHarmony, the site on which they met — John popped the question for the second time.
"He's always full of surprises, so you never quite know what he's going to pull off," Judy said. "But I didn't expect this."
"I'm just a hopeless romantic, is what it is," John said. "And with the help of another hopeless romantic, standing right over there" — Tournament of Roses organizer Jeannette Collier — "we managed to put this together."
John had contacted the Tournament of Roses in advance, asking if the couple could do something special for their anniversary.
"When he mentioned that they met on eHarmony, and the backstory, I just knew that it was something we could make a dream come true," Collier said.
"You just want to cry," said eHarmony's Jaime Rupert. "These are the moments in time where you stop and [say], you know, this is what life's really all about."
The Scheres said their secrets to a successful marriage are: communication, compatibility, and "don't sweat the small stuff."