This is an archived article and the information in the article may be outdated. Please look at the time stamp on the story to see when it was last updated.
Cameras captured the arrest of a man who police say tried to grab an officer's gun during a struggle at a CVS pharmacy in Murrieta Tuesday night.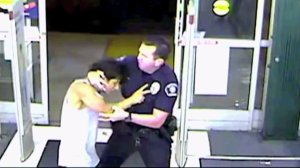 The incident took place about 8:45 p.m. at the store located in the 25000 block of Hancock Avenue, the Murrieta Police Department stated in a news release.
An officer was attempting to contact the man, later identified by police as Murrieta resident Alejandro Rojo, after a bystander said someone in the store was creating a disturbance and was possibly under the influence of drugs.
Rojo began fighting with the officer and attempted to grab his holstered firearm when the officer went to detain him, the Police Department stated.
Surveillance video showed the two struggling for several seconds inside the store before Rojo fled and was followed into the parking lot by the officer.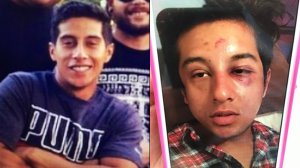 A second struggle ensued, when police say Rojo again tried to disarm the officer.
More officers arrived at the scene and "attempted multiple force techniques in an attempt to stop the suspect from attempting to disarm the officer," the news release read.
Cellphone video captured outside the store showed officers striking Rojo several times as they restrained him on the ground.
The initial officer suffered a broken hand as a result of the struggle with Rojo, who had multiple abrasions and cuts, according to the news release.
Police stated that Rojo was treated at a hospital and released after being medically cleared.
Rojo's family told KTLA the 22 year old was in a hospital Thursday morning and undergoing a series of tests after being badly injured in during the arrest.
"I want people to know that he's a good kid … They can say whatever they want but I know my kid," Rojo's father, Arturo Rojo said.
Authorities were using the store's surveillance video in their investigation into the arrest, and hoped to obtain the cellphone footage as well, according to the news release.
Investigators said they later determined Rojo had been tearing open medical supply packages and possibly ingesting the contents before he was approached by the officer, according to the news release.
Rojo was booked on suspicion of attempting to disarm a police officer, resisting a police officer causing injury, obstructing a police officer causing injury, retail property trespassing and – being under the influence of a controlled substance (pending lab results), the Police Department stated.