This is an archived article and the information in the article may be outdated. Please look at the time stamp on the story to see when it was last updated.
The sight of a 95-year-old veteran cheering on runners in a military charity race triggered a spontaneous show of patriotism that captured the nation's attention.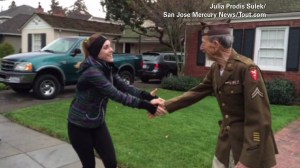 World War II veteran Joe Bell was standing in front of his house in his dress uniform waving at the runners when suddenly he became the one being honored, according to the San Jose Mercury News.
In a rare tribune, participants began peeling away from the main group and ran over to Bell, shaking his hand and thanking him for his service, as they passed by him, video of the event showed.
The touching moment was recorded by Bell's neighbor Julia Prodis Sulek of the San Jose Mercury News.
The runners were participating in the 408-K Race to the Row which benefits the Pat Tillman Foundation, set up in honor of the fallen Army Ranger and San Jose native, the newspaper reported.