This is an archived article and the information in the article may be outdated. Please look at the time stamp on the story to see when it was last updated.
Driven by winds, the massive Saddleridge Fire has burned through more than 7,500 acres and destroyed at least 31 structures in the northern San Fernando Valley, authorities said Friday.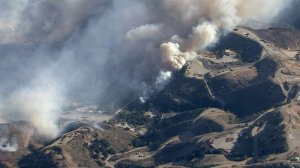 A man died of cardiac arrest as firefighters worked to put the growing flames moving west from where the fire started in Sylmar, authorities said. The brush fire was reported just after 9 p.m. Thursday near the Yarnell Road exit of the 210 Freeway, according to the U.S. Forest Service. Within 12 hours, it exploded to 4,700 acres and was 0% contained, authorities said. By 2 p.m., the Los Angeles Fire Department announced the fire had spread to 7,542 acres — an area equivalent to more than 11 square miles. At least 16,000 homes remained under mandatory evacuations Friday evening as firefighters managed to reach 13% containment of the blaze, fire officials and police said. Los Angeles Mayor Eric Garcetti said Friday evening at least 70,000 were still affected by the evacuations. However, police were expected to escort residents who need to pick up their possessions.
Due to the ongoing #SaddleridgeFire danger, residents of Porter Ranch and Granada Hills will be allowed to retrieve essential items from their property with a police escort provided they show ID as proof of residency.

— Mayor Eric Garcetti (@MayorOfLA) October 12, 2019
If you've been evacuated due to #Saddleridge Fire there are 3 locations for timed police escorted re-entry to residences.📍Porter Ranch Town Center (Porter Ranch & Rinaldi) 📍Target (Balboa & San Fernando Mission) 📍Sylmar Recreation Center (Borden & Polk) View video ⬇️ @LAPDHQ pic.twitter.com/1DP6FRJ681

— LA City Emergency Management Department (@ReadyLA) October 12, 2019
Additional location to meet with officers to be escorted to your residence for a period of 5 minutes is at the Sylmar Recreation Center located at 13109 Borden Ave.

— LAPD HQ (@LAPDHQ) October 11, 2019
The cause of the fire remains under investigation as arson investigators follow up on reports saying a man witnessed the fire start near a power line in Sylmar, LAFD Chief Ralph M. Terrazas said. One firefighter who suffered a minor eye wound and no other injuries were reported, Terrazas said. More than 1,000 firefighters were at the scene assisting with the blaze. Gov. Gavin Newsom said the state has
secured assistance from the Federal Emergency Management Agency
on Friday to battle the blaze.
The fire was moving in a westerly direction Thursday night as it burned through medium to heavy brush near the Porter Ranch and Granada Hills areas. It was moving in a northerly direction toward the city of Santa Clarita Friday morning, Los Angeles County Fire Department Chief Dave Richardson said. "In addition to that, it continues to burn not only through the city but unincorporated Los Angeles County toward Browns Canyon, Twin Lakes community," Richardson said. Los Angeles Police Department Chief Michel Moore said 450 members of the department were being dispatched to evacuated areas to keep watch over the vacant homes. As thousands remained evacuated, Terrazas called on residents to continue to heed the orders. "Be patient with us," he said. "We want to get you back into your homes. But we want to make sure you're safe."
Click here
to donate to firefighting and relief efforts.
Freeway Closures
Dangerous flames from the Saddleridge Fire have prompted several
freeway closures
. Earlier, stretches of the 118 Freeway were closed and reopened by 11:30 a.m. The following freeways are still closed.
Northbound 5 Freeway at 118
Westbound 210 Freeway at 118
Eastbound 210 Freeway at 5
Northbound 405 Freeway at 118
#SaddleridgeFire UPDATE

Now Open:
SB 14 at Newhall Ave
EB 118 to NB 405 connector
NB 405 & NB 5 at SR 118
NB 5 to NB 14 connector

CLOSED:
NB & SB 5 truck lanes
WB 210 at SR 118
EB 210 at SR 5

Connectors CLOSED:
SB 5 to NB 14
SB 5 to EB 210
EB 118 to WB 210
SB 5 to EB 210

— Caltrans District 7 (@CaltransDist7) October 12, 2019
Mandatory Evacuations
[protected-iframe id="6d8106e083813e0b78eeb680bfb42750-41641936-109948526″ info="https://lafd.maps.arcgis.com/apps/Media/index.html?appid=ba8cfed4b4a04d49b7489eb8300727a8″ width="100%" height="400″ frameborder="0″ scrolling="no"]
Mandatory evacuations are in place for at least 23,000 homes in the following areas.
ALL of Porter Ranch (north of 118 Freeway) from Reseda to De Soto
Oakridge Estates
West of Balboa, north of Sesnon to the Ventura County border with DeSoto as the western border (north of the 118 Freeway)
As some evacuation centers were filled to capacity Friday, authorities opened additional facilities throughout the San Fernando Valley. The Los Angeles Fire Department announced at 2 p.m. that the following centers are open.
Branford Recreation Center at 3306 Brandford St. in Arleta
Van Nuys/Sherman Oaks Recreation Center at 14201 Huston St. in Sherman Oaks
Lanark Recreation Center at 21816 Lanark St. in Canoga Park
Northridge Recreation Center at 18300 Lemarsh St. in Northridge
Granada Hills Recreation Center at 16730 Chatsworth St.
Balboa Sports Center at 

17015 Burbank Blvd. in Encino 
L.A. City Councilman John Lee said women who are pregnant or have other special needs may be able to find shelter at the San Fernando Valley Rescue Mission, with evacuees being accepted on a "case-by-case" basis. Large animals can be taken to the following facilities:
Hansem Dam: 11770 Foothill Blvd. in Lake View Terrace
Pierce College: 6201 Winnetka Blvd. in Woodland Hills
Counilwoman Rodriguez urged anyone needing information about evacuations to text READY to 888777.
School Closures
Dozens of schools in three counties have closed Friday as a result of the fire. The
Los Angeles Times
issued the following list of closures:
Santa Clarita:
William S. Hart Union High School District
Castaic Union School District
Sulphur Springs Union School District
Newhall School District
Los Angeles County:
Cal State Northridge
Pierce College
Los Angeles Mission College
Bert Corona High School and Bert Corona Charter School
Castlebay Lane Charter
Chaminade College Preparatory Middle School
Danube Avenue Elementary
Granada Hills Charter High School's Devonshire and Zelzah campuses
El Oro Way Charter for Enriched Studies
Frost Middle School
Haskell Elementary STEAM Magnet
Jane Addams Continuation High School
John F. Kennedy High School
Knollwood Preparatory Academy
North Valley Military Institute
Porter Ranch Community School
Rinaldi Adult School
Valley International Preparatory High School
Van Gogh Charter
Ventura County:
Filmore Unified School District
Los Cerritos Middle School and Lang Ranch Elementary School in the Conejo Valley Unified School District
MATES charter school in Thousand Oaks
Mupu School near Santa Paula
All Simi Valley Unified Schools
Post Office Closures
Two local post offices were also forced to close as a result of the fire.
Porter Ranch: 19300 Rinaldi St.
Newhall: 24201 The Old Road
Porter Ranch customers who did not receive delivery can get their mail at the Northridge post office at 9534 Reseda Blvd. Chatsworth customers looking for their mail can get it at 21606 Devonshire St. Officials said a pickup location for those in Newhall has yet to be determined due to continuing fire activity.
KTLA's Marissa Wenzke contributed to this report.