This is an archived article and the information in the article may be outdated. Please look at the time stamp on the story to see when it was last updated.
The Los Angeles Police Department acknowledged last month that one officer was involved in two fatal shootings in the department's Hollenbeck division less than two weeks apart earlier this year.
Eden Medina was identified as the officer involved in the shooting deaths of Omar Gonzalez in East Los Angeles on July 28 and 14-year-old Jesse Romero on Aug. 9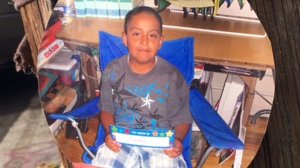 In the July 28 incident, gang officers attempted to stop a possible stolen vehicle when a short pursuit ensued. The driver of the vehicle eventually stopped in a cul-de-sac and a passenger, later identified as Gonzalez, ran into a home in the 1200 block of Atwood Street, police said.
The suspect fought with officers causing them to fall to the ground. Police said Gonzalez was seen armed with a loaded .25 caliber semiautomatic handgun and Medina shot the suspect.
In the Aug. 9 incident, officers responded to a vandalism call near Chicago Street and Cesar Chavez Avenue. As the officers approached the teens for an investigation, Romero ran from the officers while grabbing his waistband, police said. As the officers chased Romero, they heard a gunshot and saw Romero fire a handgun at the officer, police said. One of the officers saw Romero "crouched on the sidewalk with his right arm extended toward the officer," police said in a Sept. 14 news release.
One of the officers shot at Romero and struck him twice.
The teen's shooting sparked rallies in the area after the incident and earlier this month, Romero's mother filed a claim against the city and the LAPD.
The department indentified Medina as the officer involved in the first shooting one week after it occurred, but waited more than a month to say he was involved in the Romero shooting.
It is unclear if Medina is currently on administrative leave, but both incidents remain under investigation.
KTLA's Nidia Becerra contributed to this story.