This is an archived article and the information in the article may be outdated. Please look at the time stamp on the story to see when it was last updated.
A couple of sheriff's deputies knew just what to do when confronted with a giant pig roaming loose in a Highland neighborhood on Saturday. They reached for the Doritos.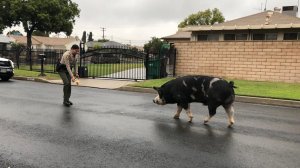 Deputies responded to the unusual radio call reporting a swine "the size of a mini horse" roaming loose, San Bernardino County Sheriff's Department officials said in a written statement.
"Deputy Ponce and Deputy Berg found him and, due to previous calls, knew where he lived," according to the statement.
The deputies hatched a plan.
"They lured him back home with Doritos one of our deputies had in her lunch bag," the statement said. "They made a trail and he followed."
"We were able to put him back in and secure the gate," Deputy Ponce said. "It was fun!"