This is an archived article and the information in the article may be outdated. Please look at the time stamp on the story to see when it was last updated.
An instructional assistant who was in the elementary school classroom where a gunman fatally shot a San Bernardino teacher and a student before turning the weapon on himself said in an interview Wednesday that he had also tried to kill an aide.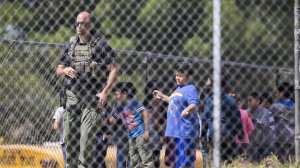 Jennifer Downing was one of three women in Classroom B1 at North Park Elementary School on Monday morning when the deadly incident took place, according to the San Bernardino Sun, which spoke with the eyewitness.
Classroom B1 has 15 students with special needs between the first and fourth grades, including those who have been diagnosed with autism and attention-deficit/hyperactivity disorder, The Sun reported. One student was out sick on Monday.
The class was about 20 minutes away from recess when Cedric Anderson entered the classroom, Downing told The Sun. Anderson's estranged wife, 53-year-old Karen Smith, Downing and the other aide were each working with small groups of four to five students when he suddenly opened fire.
The classroom doesn't have a door — just a curtain, according to Downing. When Anderson, 53, stepped through it, she was sitting at a table across from where he had entered.
"At this time, everybody was heads-down, engaged in their group. Everybody looked up and was like 'what the heck' " once the first shot rang out, she said. "By the time I looked up, he had already pointed the gun and fired."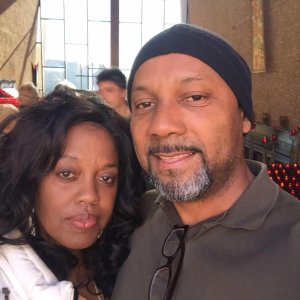 Anderson was able to enter the school under the guise that he was there to drop something off for his wife. He immediately shot at Smith without saying anything, according to San Bernardino Police Chief Jarrod Burguan.
"As I reacted, my kiddo right next to [me] reacted, and we kind of fell into each other," Downing told The Sun. "I stumbled over him and remember grabbing him by the collar, like, 'Get up, get up.' "
Downing and the child crouched behind a storage unit, then fled with the young boy and other students when Anderson stopped to reload his six-shot revolver, she said.
Later, Downing said she learned Anderson had tried to shoot the other instructional assistant, but he was out of bullets.
"She said he raised the gun to her — and it clicked," she said, adding, "From the second he walked into that room, I did not think he was just out for Ms. Smith, he was out for blood."
In addition to Smith, Anderson shot two students who were near their teacher at the time — 8-year-old Jonathan Martinez and 9-year-old Nolan Brandy.
"I saw him get shot," Downing said of Brandy. "I feel like I saw a reaction from him first, before I saw Ms. Smith get hit. So in my mind, I'm thinking, 'He's shooting anybody and everybody.' "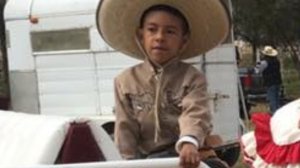 After fleeing the classroom, Downing ran to the principal's office with the students, including Brandy. She immediately alerted them to what had happened, screaming "There's a man with a gun, we need a locked door," Downing recalled.
They immediately went into an interior office, and an adult called 911. A third-grade teacher worked on Brandy, applying pressure to his wound, she said.
When police responded to the elementary school and entered the classroom, they found Smith deceased at the scene.
The two injured children were both airlifted to Loma Linda University Medical Center, where Martinez later died.
Brandy is recovering and "doing well," his parents said in a statement on Wednesday.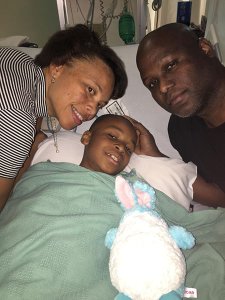 According to police, Anderson fired a total of 10 shots; the classroom had been evacuated by the time the last four shots were fired, they said.
Anderson died of a self-inflicted gunshot wound, according to Burguan.
The couple had been in a relationship for four years before marrying in January. But by March, marital problems had developed, and Smith moved out of their Riverside home and was living with her adult children, the police chief said.
Smith told relatives that Anderson was behaving oddly and had made threats toward her; she had resisted his efforts to get her to return home, according to Burguan.
Anderson had a previous criminal history that included domestic violence charges, though the chief noted it was not likely from this marriage.
"I don't know if that just reached a boiling point or what it was, nor do we know exactly why he chose to do this at the school," he said.
Downing told The Sun Smith was a "private" person, and she didn't know much about her personal life. The aide added she had never seen Anderson before Monday's shooting.
"She never talked about anything," she said. "She never disclosed any private information."
As of Thursday, the school remained closed in the wake of the shooting.