This is an archived article and the information in the article may be outdated. Please look at the time stamp on the story to see when it was last updated.
When it looked certain the Arroyo Valley High School basketball team would lose its last game of the season, the coach and players decided to look at the score as an opportunity to give Ricardo Ruvalcaba, a special needs student, his time to shine.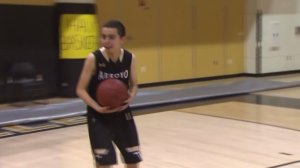 Hawks coach Brandon Mason said his team wanted Ruvalcaba, who usually worked as the team manager, to not only suit up for Monday's game against San Gorgonio High School, but to play.
"Senior night. Last home game of the year and the team wanted him to get in. We wanted him to score," Mason said.
When it became clear late in the second half the Hawks weren't going to win, Mason decided to call a time out and talk to the opposing coach about Ruvalcaba's dream to play and score in a game.
"Ricardo had earned the opportunity to go in. The whole team wanted to see it … it was just the appropriate time and place," Mason said.
Not only did coach Pablo Garcia agree, but the San Gorgonio players seemed as hopeful Ruvalcaba would succeed as everyone else.
After missing his first couple of shots, Ruvalcaba scored his first points on a layup.
The second time he got the ball, Ruvalcaba hit a three-point shot to end the game.
"I made the shot. The whole place, the whole arena went crazy," Ruvalcaba said.
The crowd erupted in cheers and both teams, along with coach Mason, lifted Ruvalcaba into the air.
"It would have taken the whole gym to hold me back," Mason said.
Although they didn't win, the Hawks players were OK with how things ended.
"A good thing happened out of a bad loss," one player said after the game.
For Ruvalcaba, it was a night he will never forget.
"I thought it would never happen … it was a dream come true," Ruvalcaba said.