This is an archived article and the information in the article may be outdated. Please look at the time stamp on the story to see when it was last updated.
A 23-year-old San Bernardino man was arrested on suspicion of homicide after his mother was found dead Sunday morning.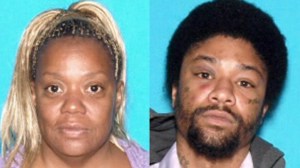 Authorities received a 911 call at 7:26 a.m. Sunday about a woman who was down and bleeding in the 4400 block of North Sierra Way, the San Bernardino Police Department stated in a news release.
Police and medical crews found 52-year-old Barbara Crumity in the living room with blunt force trauma injuries.
Crumity was taken to Loma Linda University Medical Center for treatment, but died from her injuries several hours later, according to the news release.
Homicide investigators disproved initial statements that the death may have been part of a robbery and identified Crumity's son Darrell Jones as the suspected killer, the Police Department stated.
Jones was arrested on suspicion of homicide based on statements given to investigators, evidence found at the scene and further evidence collected at a secondary location, the Police Department stated.
Jones was previously arrested for battery on his mother in August of 2015.
Anyone with additional information was asked to contact Detective Munoz at 909-384-5630 or Sergeant Kokesh at 909-384-5615.