This is an archived article and the information in the article may be outdated. Please look at the time stamp on the story to see when it was last updated.
A survivor of the San Bernardino mass shooting said Saturday that her Victorville home was burglarized while she visited a memorial for the victims.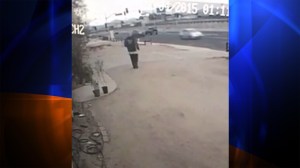 Natassa Torralbo was forced to leave behind personal items after Wednesday's deadly shooting at the Inland Regional Center as law enforcement investigated the incident, she said.
Two days later, she returned to work to attempt to retrieve the items and later visited a memorial for the 14 victims who were killed.
When she returned home, located in the 13200 block of Amargosa Road, she realized her home had been burglarized and several personal items — including jewelry and a treasured Los Angeles Kings hockey jersey — had been stolen, she said.
"It was just a very bizarre overall thing," she said. "I just can't wrap my head around everything that's gone on the last couple of days. It's just getting to be a little too much."
In addition to Wednesday's traumatic shooting, and family heirlooms being stolen days later, Torralbo said Saturday was her birthday.
The intruder may not have known before entering the home that she had survived the shooting attack, but documents strewn around her home after the burglary showed the Inland Regional Center building name, she said.
"I'm just terrorized as I was the last couple days," she said, visibly upset.
A burglary report was made with the San Bernardino County Sheriff's Department, who said the intruder appeared to make entry by kicking a door and stole miscellaneous items. There was no description of the person as of Saturday.
Torralbo said a neighbor's surveillance footage captured the burglar; who appeared to be wearing dark-colored pants, with a sweatshirt with a logo or design on the back; leaving the home. The date time stamped on the video was Friday.
"I saw the video and it just made me sick to my stomach somebody would do that," Torralbo said.
Kayla Gaskill, Torralbo's daughter, said she was upset about the incident but knew they would find the person responsible.
"My mother is an extremely strong person, and I know that with our family and our faith we can get through this," she said. "We can get through anything, and this person will have justice served."
Twenty-one people were injured in Wednesday's deadly shooting, which was carried out by Syed Rizwan Farook and Tashfeen Malik. Both died in a shootout with law enforcement later that day.
The incident was being investigated as an act of terrorism.