This is an archived article and the information in the article may be outdated. Please look at the time stamp on the story to see when it was last updated.
A San Bernardino mother was arrested after her 3-year-old daughter allegedly pointed a loaded handgun — which had been stolen from a sheriff's deputy — at police detectives, authorities announced Wednesday.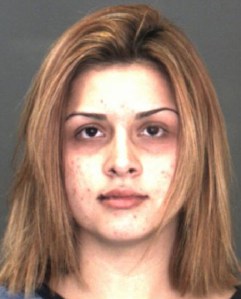 The child was removed from the home and the mother, 20-year-old at the home of Kimberly Torres, was booked on suspicion of child endangerment and possession of stolen property, according to a news release from the San Bernardino Police Department.
The arrest followed a May 7 vehicle break-in at West Valley Street and North Stoddard Avenue in San Bernardino, where an off-duty Los Angeles County Sheriff's Department deputy's patrol vehicle was burglarized. Two handguns and other "police-related property" were taken, the release stated.
Later that day, San Bernardino County Sheriff's Department deputies conducted a traffic stop and found one of the deputy's stolen handguns during a search of the vehicle. The driver, Ramon Quintero, 25, of San Bernardino, was arrested.
Then, on Tuesday, San Bernardino police detectives went to speak to Torres, whose name was on the registration for the vehicle Quintero was driving.
As detectives spoke to Torres at a home in the 2600 block of West Rialto Avenue, her 3-year-old daughter walked out of a bedroom holding a firearm and pointed it at the detectives, the release stated.
The gun was a black semiautomatic pistol with a tactical light attached, police said.
The firearm was immediately taken from the toddler and found to be loaded, according to police. Its serial number showed it was the other firearm stolen from the deputy's patrol car.
After a search of the home, the majority of the deputy's stolen property was found, as was another stolen firearm, according to police.
The little girl was taken into the care of Child and Family Services.
Torres was release from custody early Wednesday morning, and Quintero was released the morning after his arrest, inmate records indicated.