This is an archived article and the information in the article may be outdated. Please look at the time stamp on the story to see when it was last updated.
A motorcyclist who died Tuesday in a freak accident in San Bernardino was a father-to-be who had married his longtime girlfriend less than a year ago, according to a fundraising page set up by his wife.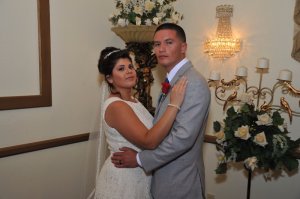 Fabian Zepeda, 27, had been riding his motorcycle on Macy Street near Adams Street around 9:10 a.m. Tuesday, the San Bernardino County coroner's office said in a news release on its website.
Moments before Zepeda came down the road, a Ford Taurus had crashed into a telephone pole, which caused it to snap in half with a loose tension wire stretching across the street.
Zepeda drove into the wire and died at the scene, according to the coroner's office.
He was decapitated when he hit the wire, a San Bernardino Police Department official told the The Press-Enterprise.
Both collisions are being investigated by police and the California Highway Patrol.
Zepeda's wife remembered her husband as a loving and caring man who was devoted to his family.
"Fabian Zepeda was a loving son, husband, brother, and friend. He was the most caring, loving, family orientated unique individual who always managed to care for others before himself," Vanessa Quintana wrote in a GoFundMe page set up to help pay for her husband's funeral.
The two had met in 2012 and married last June after a yearslong relationship. In January, Quintana found out she was pregnant with the couple's first child.
"I am now 4 months pregnant with our baby girl," she wrote. "I am very happy to keep a little blessing from my husband."
Quintana confirmed her husband died while riding his motorcycle Tuesday in an "accident caused by a chain of events from a car collision." She said she was mourning the loss of her husband, and was hoping to raise enough money to lay him to rest within the next week.
The GoFundMe's goal was $5,000, and by Thursday morning, the page had raised nearly $3,500,