This is an archived article and the information in the article may be outdated. Please look at the time stamp on the story to see when it was last updated.
SAN BERNARDINO, Calif. (KTLA) — A search was underway on Friday for the person who shot at a San Bernardino police officer as he was driving in a marked patrol car.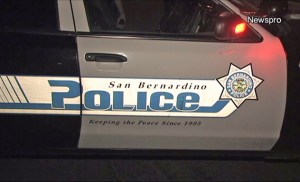 It happened just after midnight in the 2300 block of Rialto Street.
The officer was driving westbound on Rialto when he heard a gunshot, according to a news release from San Bernardino police.
At the same time, the officer's right front window shattered, the news release said.
The officer suffered a minor injury to his right arm from the shattering glass, but was expected to be OK.
Police from San Bernardino and at least two neighboring agencies responded and conducted a search of the area.
A source close to the investigation told KTLA that it was likely a BB or other type of projectile that was fired.
The shooter remained at large as the investigation continued.
The incident follows two shootings in recent weeks involving San Bernardino law enforcement personnel.
Sky5 was overhead on July 16 after a sheriff's deputy was shot as he served an eviction notice.
Then, on July 26, a San Bernardino police officer was shot and wounded during a traffic stop.
Two of the four occupants of the car got out and began firing at officers, hitting one of them in the leg, police said.
Officers returned fire and wounded two men, identified as Eric Newsom, 22, of Los Angeles, and Kevin Mayfield, 22, of Redlands.
Both men were charged with two counts of attempted murder as well as weapons violations, according to the San Bernardino County District Attorney's office.
On Thursday, police announced the arrest of a 14-year-old boy, who was also facing charges of attempted murder in connection with the shooting.
A fourth suspect, 29-year-old James Love Jr., of San Bernardino, was still being sought in the case.