This is an archived article and the information in the article may be outdated. Please look at the time stamp on the story to see when it was last updated.
SAN BERNARDINO, Calif. (KTLA) – San Bernardino Police Tuesday looked to the public for help in identifying a potential suspect in a shooting, authorities said.
Police responded to a call of a shooting and found a man, who was suffering from a gunshot wound, lying in the middle of Kingman Street.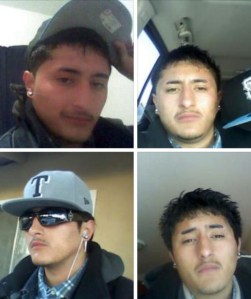 The victim was transported to a local hospital and was listed in critical condition as of Tuesday afternoon.
A dispute between the suspect, victim and a third person may have led to the shooting, police said.
Police described the suspect as a Hispanic male in his 20s, 6 feet tall, black hair and a stocky built. Police distributed these photographs which they obtained of the unidentified suspect.
Anyone with information was asked to call Detective Brian Lewis at (909) 384-5762 or Sergeant Gary Robertson at (909) 841-5361.