This is an archived article and the information in the article may be outdated. Please look at the time stamp on the story to see when it was last updated.
The head of the San Bernardino Police Department on Friday addressed rumblings on social media that it was not sharing information about known terror cells and a potential threat at a local movie theater.
"We are not hiding information from anybody," Police Chief Jarrod Burguan said during a news conference Friday.
Burguan gave details about an incident at the Regal movie theater on West 4th and North E streets earlier in the week after acknowledging he saw at least one Twitter post that implied the department was not sharing information.
Sometime Monday night or Tuesday morning a man who appeared to be Middle Eastern spoke to a security guard at the theater around closing time and asked questions about the movies and movie times, Burguan said.
The security guard thought the exchange was odd and noted that the man left in a silver four-door vehicle.
Later, the same guard noticed another person, who also appeared to be Middle Eastern, driving a late '90s Dodge Durango and taking photos around the theater.
"The security guard took it upon himself and notified our Police Department," Burguan said.
The Police Department took a report and sent the information out to other law enforcement agencies in the county "as just simply some suspicious circumstances that were noted," Burguan said.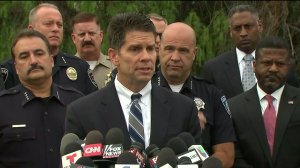 The incident then went into a regular investigative follow-up to try to determine if there was a real threat, according to Burguan.
"At this point we have zero connection … zero evidence or information that connects that event with what happened here at the Inland Regional Center on Wednesday morning," Burguan said, adding that the department was still on tactical alert following the mass shooting.
Burguan then announced the investigation into Wednesday's shooting was being handled by the FBI.
That incident was being investigated as an act of terrorism, Dave Bowdich of the FBI said a short time later at the same news conference.