This is an archived article and the information in the article may be outdated. Please look at the time stamp on the story to see when it was last updated.
Nearly three months after a San Bernardino police officer was shot in the head and said to be "fighting for his life," officials said Friday he had been released from the hospital and taken to a rehabilitation center.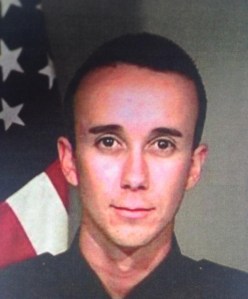 Gabriel Garcia, who was 31 years old at the time of the Aug. 22 incident, was training a fellow officer when the two men approached a group of people and at least one person opened fire using an AK-47 and handgun.
Garcia was shot in the head and the trainee officer, who had not been identified, returned fire, killing the alleged shooter, 38-year-old Alex Alvarado.
The 6 1/2-year department veteran was hospitalized and listed in critical condition following the shooting. San Bernardino Police Department Chief Jarrod Burguan tweeted that Garcia was "fighting for his life."
On Sept. 8 officials said he had been taken out of a medically induced coma and was breathing on his own.
"It will take about six months to a year before we know what his recovery is, but he is recovering," Arrowhead Regional Medical Center chief of surgery Dr. Dev Gnanadev said at the time.
Garcia left the Colton-area hospital and was taken to the Casa Colina Centers for Rehabilitation in Pomona Thursday around 11 p.m., San Bernardino Police Department spokesman Lt. Rich Lawhead said.
"He and his family would love the public's continued support," Lawhead said. "It's expected to be a long road to recovery. Pray for a full recovery."
Support, including people the lighting up his parents Yucaipa neighborhood with blue lights after the shooting, was appreciated, Lawhead said.
"He and his family have been very grateful for everything the public has done and for all their support," he said.
Five people were detained following the Aug. 22 incident, and three men were later charged.
San Bernardino residents Jonathan Contreras, 20, Orlando Cruz, 24, and Gonzalo Medina, 22 were each charged with two counts of attempted murder of a peace officer and one count of possession of an assault weapon, an AK-47, the San Bernardino County District Attorney's Office stated Aug. 26. None of the men were believed to have fired a weapon.
"They were all together in a location, in a vehicle, a and they all had knowledge of these weapons," District Attorney Michael A. Ramos said at the time. "We have no doubt that all these individuals are guilty."
The reason alleged shooter Alvarado opened fire may never be known, Lawhead said following the announcement of charges.