This is an archived article and the information in the article may be outdated. Please look at the time stamp on the story to see when it was last updated.
The San Bernardino police officer who was shot in the head when a gunman opened fire on him and a rookie officer has been taken out of a medically induced coma and is breathing on his own, authorities said Monday.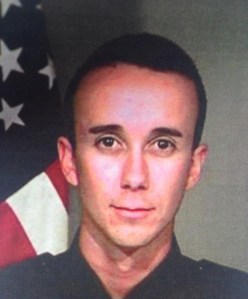 Details about Officer Gabriel Garcia's condition were kept to a minimum at a news conference at Arrowhead Regional Medical Center in Colton. But his father, a captain in the same Police Department, said family visits at the hospital had been "very uplifting, very personal."
"For the last 18 days or so, we are witness to an exceptional will to survive on the part of our son," Capt. Ron Garcia said.
Asked if his 31-year-old son was getting to the stage when he would be able to communicate, Garcia said, "I hope so."
Gabriel Garcia and an officer he was training approached a group of people in front a home on a dead-end street on Aug. 22 when Alex Alvarado, 38, allegedly opened fire, using an AK-47 assault rifle and a handgun, according to police.
Garcia quickly went down, while the trainee returned fire, fatally striking Alvarado. Three men in their 20s have been charged with attempted murder in the shootout.
It may never be known what prompted the gunfire, San Bernardino Police Department spokesman Lt. Rich Lawhead said Monday. The case has been handed to the county District Attorney's Office.
After the early morning shooting, Garcia was rushed to Arrowhead Regional Medical Center, where surgeons treated him for multiple gunshot wounds, removing a bone flap to allow his brain to expand, chief of surgery Dr. Dev Gnanadev said Monday.
Garcia was taken out of a medically induced coma last week and was breathing without a respirator, Gnanadev said. Details of his "neurological status" were not being released at the request of the family, the doctor said.
"It will take about six months to a year before we know what his recovery is, but he is recovering," Gnanadev said.
Ron Garcia, a 29-year veteran of the department, thanked the medical staff, fellow police and thousands of Gabriel Garcia's supporters locally and outside of Southern California.
His son initially did not want to become a police officer but changed course while working a desk job in human relations, Garcia said. Of his three children, Gabriel Garcia was most like his father, Ron Garcia said.
"Just about in every way, except better," Ron Garcia said.
Serving in the same department with his son has been "exceptional," he said.
Gabriel Garcia has been with department about 6 1/2 years, police had said.
"Gabriel absolutely understood the risk of a law enforcement career. He grew up with it. He was physically and mentally prepared for the challenge of this profession," Ron Garcia said. "But really, how do you prepare for something like this?"
Gabriel Garcia attended Yucaipa High School and has a 4-year-old daughter, Ron Garcia said.
When Ron Garcia and his wife returned to their Yucaipa home after the shooting, the neighborhood was lit up with blue lights, he said.
"We just went for a walk through the neighborhood," Ron Garcia said. "It really means the world to us."