This is an archived article and the information in the article may be outdated. Please look at the time stamp on the story to see when it was last updated.
San Bernardino police are searching for man who is accused of fatally shooting his ex-girlfriend on Wednesday, according to officials.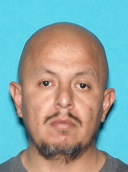 Officers were called to a home around 11:30 a.m. in the 3600 block of North Mt. View Avenue in San Bernardino where they found Sophia Darlene Vasquez Rubin bleeding in the middle of the street and suffering from gunshot wounds.
The 31-year-old was transported to Dignity Health-St. Bernardine Medical Center where she was pronounced dead, according to a San Bernardino Police Department press release.
Police believe Christian Omar Jaciento, 39, shot Rubin due to a recent break-up.
"I just heard my neighbor right across from us murdered his girlfriend," said Tracy Chapman, the shooter's neighbor. "I mean he was a friendly guy that's why I'm tripping out. That's what's going through my mind he was so friendly, I just spoke to him last night."
Jaciento fled in a white four-door car that police later believed they found at an apartment complex in the 600 block of Central Avenue just east of Canyon Crest Drive in Riverside, according to the Press Enterprise.
The SWAT team was called to the scene but Jaciento was not located, officials said.
"Our SWAT team officers then converged on the location and did a surrounding call out of the apartment where the suspect was known to reside," said Lt. Mike Madden. "After not receiving a response our officers ultimately made entry into the apartment. The apartment was found to be vacant, the search now continues for the suspect."
Neighbors told KTLA the Rubin was a mother and had multiple children, and Jaciento had two daughters of his own.
The investigation into the shooting is ongoing. Anyone with information is asked to call Detective Oldendorf at 909-384-5619 or Sergeant Sullivan at 909-384-5615.