This is an archived article and the information in the article may be outdated. Please look at the time stamp on the story to see when it was last updated.
Video showing two vehicles that were possibly speeding before one of them crashed, killing the 19-year-old driver, has been released by San Bernardino police, who were seeking the driver of the second car.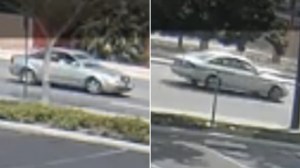 The single-vehicle crash occurred about 3:15 p.m. Monday in the 400 block of East Ninth Street.
Gonzalo Fuentes, 19, of San Bernardino lost control of his older-model Acura sedan and hit a concrete light pole and tree. His identity was released by police in announcing video connected to the crash in a news release Wednesday afternoon.
Fuentes' car came to rest in the parking lot of nearby E. Neal Roberts Elementary School. It was nearly sheared in half by the force of the collision.
He was pronounced dead on the scene.
A witness told KTLA that the car appeared to have been going at least 90 mph.
On Monday, a police spokesman said two cars were seen speeding westbound before the crash, but it wasn't clear if they were racing.
In releasing the new video, police said investigators were still trying to determine what caused the collision.
The driver of second vehicle, which was silver, was being sought for questioning "as a witness to the event," police said.
Anyone with information was asked to contact the San Bernardino Police Department at 909-384-5742.