This is an archived article and the information in the article may be outdated. Please look at the time stamp on the story to see when it was last updated.
A prayer vigil was held at a San Bernardino church Monday night in the wake of a school shooting that left three people dead.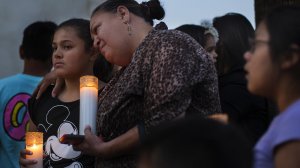 Community members gathered at Our Lady of the Assumption Church, at 796 W. 48th St., to grieve and honor the lives of North Park Elementary School teacher Karen Elaine Smith, and her 8-year-old student, Jonathan Martinez. Attendees also prayed for the recovery of a second student who was struck by gunfire, whose name has not been released.
The three were shot by Smith's estranged husband, a 53-year-old Riverside resident who entered her special education classroom and opened fire on his wife, striking two young boys behind her.
Cedric Anderson then turned the gun on himself, police said. Anderson and Smith, who been married just a few months, were both pronounced dead at the scene.
Martinez died after being airlifted to Loma Linda University Medical Center. The other injured student, 9, was also hospitalized and was stable, authorities said.
Rachel Valles attended the vigil with her son, Ethan, who was supposed to be in Smith's classroom Monday. But Valles had a sense of foreboding and kept him home, she said.
"When I saw the news, it was just like a blow to the chest," she told KTLA. "I was like, 'Oh my God.' I thank God, and I thank God that he wasn't there."
"I'll miss them," Ethan said.
Smith was beloved by her students and went above and beyond as a teacher, Valles said, and it was shocking to learn of her struggles outside the classroom.
"It was a shock, because never did I know that she was going through anything like that. It affects me because she was such a huge impact in my life, and in his life," she said.
Alice Cimental with Everlasting Covenant Ministry said it was a chilling reminder of the seriousness of domestic violence.
"Being a domestic violence survivor myself, it really hit home, knowing that another woman had lost her life at the hands of her abuser," she told KTLA.
The community will continue to grapple with violence for some time to come, said Our Lady of the Assumption's Father Leonard DePasquale.
"The death of a child, another in the hospital and the two people that have been killed — it's just a terrible tragedy for the community," he said.
The shooting comes less than a year and a half after the Dec. 2, 2015, terror attack at the Inland Regional Center that left the San Bernardino community reeling. Fourteen people were killed and 22 were injured.
"It's sad that this kind of stuff goes on in our world today," San Bernardino resident Robert Martinez said.
San Bernardino County Board of Supervisors Chairman Robert Lovingood said in a statement Monday evening that "we are strong and we will move forward, together."
Offering prayers for parents & children in San Bernardino. "For families who are hurting..who need love and support. pic.twitter.com/EONZQ1b6Zi

— Paloma Esquivel (@palomaesquivel) April 11, 2017
A message at today's prayer vigil in San Bernardino pic.twitter.com/mCnq5Ohsry

— Paloma Esquivel (@palomaesquivel) April 11, 2017