This is an archived article and the information in the article may be outdated. Please look at the time stamp on the story to see when it was last updated.
A San Bernardino school police officer has become the subject of a criminal investigation after he allegedly attacked and threatened a gardener who he believed had stolen his cellphone, police said.
Alejandro Brown, 31, was arrested on suspicion of battery with serious injury, brandishing a firearm and assault under the color of authority in an incident that began with him requesting assistance from police, according to the Beaumont Police Department.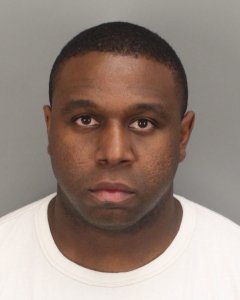 Brown was off duty on Feb. 7 when, around 7:30 p.m., he went to a home in the 1200 block of Massachusetts Avenue in Beaumont after tracking his cellphone that was not in his possession to that location using GPS technology, officers said.
At some point after he arrived, Brown requested back up from Beaumont police. While authorities were en route, police received a call from another person reporting their friend had just been assaulted by an off-duty police officer.
The man who was in possession of the phone, Antonio Juarez, said he found it in the street and picked it up on his way to a friend's house in Beaumont.
Juarez, a landscaper, doesn't speak English. Through a translator, he said he realized the confrontation was about the phone but didn't get a chance to explain himself.
"He made a mistake choosing this field," Juarez told KTLA via translator. "He should be a boxer. Not a police officer."
Juarez's attorney Ralph Rios says Brown immediately brandished his badge upon arriving at the home in plainclothes, identified himself as a San Bernardino police officer and cocked his gun. Rios described Brown's demeanor as "enraged."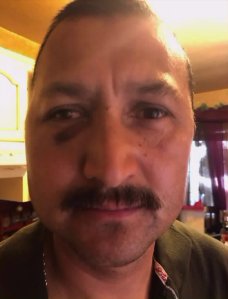 Juarez described his behavior as "too aggressive."
"I thought when he cocked the gun he was going to kill me," Juarez said. "I ran toward the truck and got the phone to try and give it to him. And when I tried to hand it to him. He said no. He gave me orders to put it on the floor."
Juarez says he was struck as soon as he put the phone on the ground.
The responding officers found both Brown and Juarez at the scene, and their investigation determined Brown had in fact assaulted Juarez.
Juarez claims he lost consciousness and saw Brown taking photos of him when he woke up.
Brown was subsequently booked at Smith Correctional Facility in Banning, police said.
A spokesperson for the San Bernardino City Unified School District Police said Brown was hired in 2015 and assigned to general patrol.
He has been placed on paid administrative leave as authorities continue to investigate the incident.