This is an archived article and the information in the article may be outdated. Please look at the time stamp on the story to see when it was last updated.
A San Bernardino County sheriff's deputy who was "violently attacked" and severely injured after a traffic collision on New Year's Eve has died, authorities said.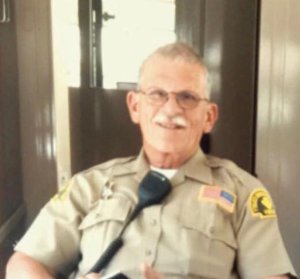 Deputy Lawrence "Larry" Falce, 70, succumbed to his injuries Tuesday night, according to a statement from the Sheriff's Department.
Falce was off-duty when he was involved in a minor crash on Kendall Drive and University Parkway in San Bernardino about 10:50 a.m. Sunday, investigators said. After the crash, both drivers stopped and made contact.
Then, for reasons unknown, the other driver hit the deputy, severely injuring him, according to a San Bernardino Police Department news release. The Sheriff's Employees' Benefit Association, of which Falce was a member, described the assault as "brutal" and said the deputy never regained consciousness after the attack.
Authorities later located the suspect and took him into custody, police said. His name is not being released yet because of the active investigation.
A spokesman for the Sheriff's Department confirmed to KTLA that Falce was taken off life support shortly after 8 p.m. Tuesday. The department issued a statement a short time after, announcing the deputy's death.
"The San Bernardino County Sheriff's Department is mourning the death of one of their own tonight. Moments ago, Deputy Lawrence 'Larry' Falce succumbed to injuries he sustained from the violent attack on Sunday, December 31, 2017," the statement read.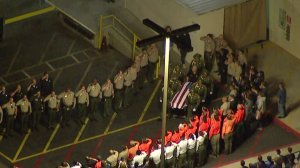 Falce, a beloved 36-year veteran of the department, is being remembered "as an honorable man," and a "lifelong public servant who cared deeply about this profession," officials said.
At 70, he was the oldest sworn member of the Sheriff's Department, according to SEBA.
Falce began his career in correction at the Glen Helen Rehabilitation Center and the Central Detention Center,  and has spent the last 32 years working patrol for the Central Station.
Prior to joining the Sheriff's Department in 1981, Falce had served in the U.S. Army.
He is survived by his sister, Marjorie, his longtime girlfriend, Deborah, and many extended loved ones, according to the Sheriff's Department.
Dozens of deputies and law enforcement agency personnel lined up outside Loma Linda University Medical Center to pay their respects and honor the fallen deputy at a procession that began promptly at 10 p.m. Numerous police motorcycles and other law enforcement vehicles accompanied Falce's body to the county coroner's office.
An investigation into the incident that led to Falce's death is ongoing and anyone with information is urged to call Detective J. Casto at 909-384-5747 or Sgt. Mahan at 909-388-4955.
KTLA's Matt Phillips and Nidia Becerra contributed to this story. 
Sheriff's Honor Guard, motors, and dozens of law enforcement members are here at Loma Linda Hospital to escort our fallen brother Deputy Larry Falce. pic.twitter.com/msU5WStpfE

— San Bernardino County Sheriff (@sbcountysheriff) January 3, 2018
"On behalf of the men and women of @SanBernardinoPD we offer our condolences to @sbcountysheriff …." The San Bernardino County Sheriff's Department mourns the death of Deputy Larry Falce. " from SBSD – Headquarters : Nixle https://t.co/hHnvlMGGdl

— Jarrod Burguan (@RetSBPDChief) January 3, 2018
https://twitter.com/SBCSDcjiles/status/948429257696407553