This is an archived article and the information in the article may be outdated. Please look at the time stamp on the story to see when it was last updated.
A candlelight vigil was held Friday evening in remembrance of a 2-year-old boy who was fatally struck by a hit-and-run driver in San Bernardino.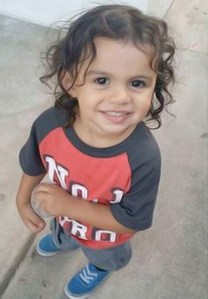 Jonathan Montes was hit by a car as he ran across the street in front of his home on Perris Hill Road near Baseline Street (map) around 6 p.m. Tuesday.
The boy's parents said he was declared brain dead Thursday evening, after being hospitalized for several days in critical condition.
His father, Raymond Montes, choked back tears during an interview at the vigil.
"We decided to make him an organ donor so he can help other families," the elder Montes said. "So that they don't have to feel this pain that we're feeling."
He hugged Jonathan's mother, Angel Montes. Referring to her deceased son by his nickname, she said the family was "focused on J.R. and just keeping his memory alive."
Following the crash, authorities were searching for the driver of an older model, silver Subaru that was apparently traveling about 40 mph in a 25 mph zone when it struck Jonathan.
Witnesses said the driver never even slowed down.
"It's just hard to know that ... someone could do that ... especially to a little baby," Jonathan's Uncle Nicholas Ortega said.
Oretega had been talking to a friend when Jonathan spotted him and came running across the street to see him, he told KTLA.
At the memorial Friday, relatives expressed a need for closure.
"Even if the suspect were to come forward and say 'sorry,' that would make a big difference," said Sarah Hatampa, the victim's aunt.
A GoFundMe page was set up for the family, who say they have not been notified of any arrests in the case.
Authorities had asked anyone with information about the crash to contact the San Bernardino CHP office at 909-383-4247.