This is an archived article and the information in the article may be outdated. Please look at the time stamp on the story to see when it was last updated.
A San Bernardino woman was arrested on suspicion of murder after her husband was found dead in their home, police said Friday.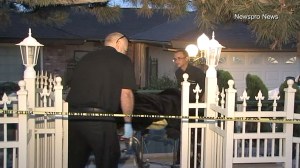 Officers responded to a domestic disturbance call at the couple's home in the 200 block of East 53rd Street (map) at about 8:19 p.m. Thursday, according to a news release from the San Bernardino Police Department.
Karen Marcil, 56, and her husband, 66-year-old Joseph Marcil, had gotten into a verbal argument at the home, which escalated to a physical altercation, investigators said.
During the incident, Joseph Marcil received fatal injuries and was pronounced dead at the scene, the Police Department stated.
The cause of death appeared to be blunt force trauma, according to the initial investigation cited in the news release.
Karen Marcil sustained a "substantial" injury to her hand during the altercation and was being treated, according to the Police Department.
She was arrested on suspicion of murder and was expected to be booked into jail after treatment for her injuries, the news release stated.
Police indicated they had no record of prior domestic violence incidents involving the family.
Anyone with information was asked to contact authorities at 909-384-5615.