This is an archived article and the information in the article may be outdated. Please look at the time stamp on the story to see when it was last updated.
Just as firefighters began to gain the upper hand on a number of blazes burning in San Diego County, fire crews had a new one to contend with after yet another brush fire broke out in the area on Saturday morning, officials said.
The latest fire, burning north of Santee Lakes in Sycamore Canyon, scorched about 15 acres before its forward rate of spread was stopped, according to Kendal Bortisser with Cal Fire. No structures were threatened.
Estimates initially put the fire at 30 acres before downgrading the acreage. Full containment of that fire was expected around 4 p.m., a tweet from Cal Fire stated.
Since Tuesday, eleven other fires have been reported in the county, igniting tens of thousands of acres and destroying dozens of home and structures in the area, fire officials said.
Changing weather conditions this weekend were expected to help fire personnel battle the fires. Temperatures were cooler on Saturday, according to the National Weather Service. A dense fog advisory was issued in the early morning for the coastal areas of San Diego and Orange counties by the weather service, although it was later canceled before 8 a.m.
Fire crews have been able to fully contain some of the blazes, including the Poinsettia, Highway, Freeway and River fires, even as they spent the better part of a week facing challenging weather conditions, including record-breaking heat, strong winds and low humidity.
Although the weather was more favorable for firefighters on Saturday, officials have warned the conditions that helped fuel the flames, including Santa Ana winds, were expected to return soon.
"Now, in just a week or so we are expecting again more Santa Ana wind condition in Southern California, said Daniel Berlant, a Cal Fire information officer. "So come the holiday at the end of the month here, we could be ramping back up, we could see more fires with the dry conditions. The likelihood of more fires is pretty high."
Meanwhile, three fire-related arrests have been made since Thursday, according to authorities.
One person was charged with arson in connection with a fire in Oceanside, authorities said at a news conference on Friday afternoon.
Alberto Serrato was seen adding brush to a fire in the San Luis River bed, San Diego County District Attorney Bonnie Dumanis said, adding the man faced up to seven years in prison.
Two teenagers were also arrested on arson-related charges, Escondido police announced on Thursday evening.
Isaiah Silva, 19, and an unidentified 17-year-old, both of Escondido, were taken into custody shortly after 7:25 p.m., according to the Escondido Police Department.
The pair was arrested after a witness reported seeing two people start a small brush fire and attempt to start another, police said in a news release. It was unclear, however, if the teens were involved in any of the larger fires in the area.
News of the arrests came as several active fires continued to burn in the county, threatening dozens of structures and leaving some evacuation orders in place.
Pulgas Fire
The largest of the active blazes is the Pulgas Fire, which began on Camp Pendleton Thursday afternoon. The fire has charred some 15,000 acres and was at 42 percent containment as of Saturday night, the Marine Corps said on its website.
The fire was burning in rolling brush-covered hills off the 5 Freeway on Camp Pendleton near Las Pulgas Road in an empty "buffer zone" with few structures in the area, said Lt. Ryan Finnegan, a Marine spokesman for Camp Pendleton.
Along with the Tomahawk Fire, also burning on the Marine Corps base, the Pulgas Fire prompted evacuation orders for thousands of base personnel and their families. All of those evacuation orders were lifted early Saturday, according to the county's emergency site.
No structures have been damaged in the Pulgas Fire. One firefighter received injuries due to heat exhaustion, a base spokesman said.
Tomahawk Fire
The Tomahawk Fire has burned 6,500 acres and was 93 percent contained as of Saturday night, according to the base.
The blaze began Wednesday morning at the Naval Weapons Station in Fallbrook and spread into Camp Pendleton.
Cocos Fire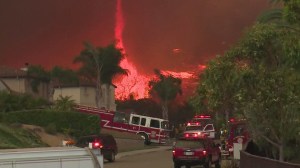 The Cocos Fire burning the San Marcos area has damaged or destroyed eight homes since it broke out on Wednesday.
By Saturday night, Cal Fire had downgraded the acreage burned from 3,018 acres to 2,520 acres and reported that the blaze was 80 percent contained.
The fire, which was "limited to smoldering areas within the perimeter," was expected to be fully contained by Sunday, according to the county's emergency website.
Evacuation orders remained in place for the following areas as of Saturday night:
Questhaven south of Elfin Forest through Harmony Grove and the area east of Twin Oaks Valley Road along Barham Drive and south into the Coronado Hills community
The communities of Hidden Hills and Live Oak
Country Club Road from Hill Valley to Harmony Grove Road and Kauana Loa to Harmony Grove
Harmony Grove at Country Club Drive
About 1,000 firefighters were battling the blaze.
Bernardo Fire
The Bernardo Fire, the first of the major fires that broke out in San Diego County this week, burned 1,548 acres, according to the latest figures from Cal Fire. Containment was 100 percent as of 8:14 p.m. Saturday. Fifty structures had been threatened.
The fire broke out Tuesday morning southwest of the community of Rancho Bernardo. It was sparked during work on a construction site, a multiagency arson team announced.
All evacuations have been lifted in the area, according to Cal Fire.
More than 200 fire personnel had been working fighting the blaze as of Friday.