This is an archived article and the information in the article may be outdated. Please look at the time stamp on the story to see when it was last updated.
San Diego police were searching for a man Sunday who may have fled to Mexico after allegedly running over his estranged wife multiple times with his truck and leaving her in the roadway to die, authorities told KTLA sister station KSWB.
Cesar Castillo, 37, was suspected of killing his wife with his white Chevrolet Silverado around 7 p.m. Friday in the 1100 block of Elm Avenue in Chula Vista (map), local police said.
Although Castillo and his wife had separated about a year earlier, they planned to meet that night to buy Christmas presents for their three children, Chula Vista Police Department Lt. Fritz Reber told KSWB.
"He was jealous she was attempting to move on," Reber said. "They had been broken up for about a year. He coordinated a meeting with her under the pretense to go buy Christmas gifts for their mutual children."
The woman, who was in her 30s, was not identified by authorities.
"One of the witnesses saw the truck that struck her drive southbound on Elm, do a U-turn, continue northbound past the woman on Elm, do another U-turn and then drive through the yard over the victim, striking the victim again," Reber said. "So, it was obvious to the witnesses it was intentional."
The woman died from massive head and internal injuries, KSWB reported.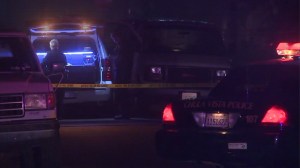 One neighbor said he was shocked and scared that the incident occurred near his home.
"I'm here every day and I can't believe this happened right here. It's so peaceful in this area," Jimmy Gonzalez said. "Walk away. Take off. Don't ever touch a woman."
The couple's children were OK and staying with the woman's mother, KSWB reported.
Castillo, a maintenance man in the Mission Bay area, likely fled to Mexico, police said.
He was considered armed and dangerous. Anyone with information regarding the incident or Castillo's whereabouts was asked to contact police at 619-585-5665.
[facebook url="https://www.facebook.com/ktla5/posts/10152904207604614"]