This is an archived article and the information in the article may be outdated. Please look at the time stamp on the story to see when it was last updated.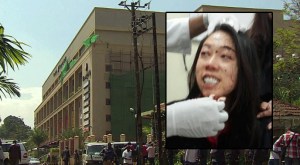 As gunshots were still heard in Nairobi Monday night, most people and hostages had been rescued from the mall where terrorists killed more than 60 and injured 200 people.
One of the injured is San Diego resident Elaine Dang. The 26-year-old, who graduated from Torrey Pines High School was working in the restaurant business in Nairobi. In a Twitter conversation with Fox 5 and others, Dang said she was "recovering" and wanted to thank everyone for their "love and support."
At her parents apartment in Carmel Valley, one neighbor said Dang's parents were on their way to Kenya to be with their daughter. Her uncle in Chollas Creek said Dang was doing "okay."
The news coming out of Nairobi is being monitored by Dr. Greg Mundis, MD, of the San Diego Center for Spinal Disorders. He has been to Kenya three times working performing surgeries on people with spinal cord injuries. A team of colleagues had been in Nairobi performing similar procedures at the time of the terrorist attack on the mall. Due to safety concerns, the team was pulled out of Africa and asked to return home.
Click here to read the full story at Fox5SanDiego.com.