This is an archived article and the information in the article may be outdated. Please look at the time stamp on the story to see when it was last updated.
San Francisco 49ers linebacker Aldon Smith was arrested at Los Angeles International Airport on Sunday after he allegedly became argumentative with a screening agent and made comments suggesting he had a bomb, police said.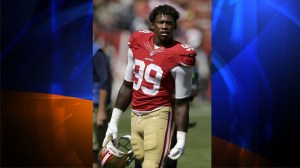 Aldon Jacarus Ramon Smith, 24, was transported to Los Angeles Police Department's Pacific Division on the Westside, where he was booked on suspicion of making a false report of a bomb threat.
Smith was randomly selected for a secondary screening about 2 p.m. at Terminal 1 when he "became belligerent and uncooperative with the process," said airport police Sgt. Karla Ortiz.
Smith then made a comment to the Transportation Security Administration agent "indicating he was in possession of a bomb before proceeding towards the gate area," Ortiz said.
Click here to read the full story at LATimes.com.
[facebook url="https://www.facebook.com/photo.php?fbid=10152334560369614&set=a.440942949613.222741.72391084613&type=1&stream_ref=10″]