This is an archived article and the information in the article may be outdated. Please look at the time stamp on the story to see when it was last updated.
San Francisco police who are searching for an "at-risk" missing 2-year-old as they investigate her mother's death said on Saturday that the two have ties to various locations throughout the state, including Southern California.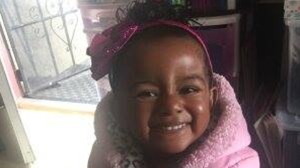 Nicole Fitts and her daughter Arianna Fitts were reported missing last Tuesday after the mother hadn't been seen since April 1 and the little girl since late February, according to the San Francisco Police Department.
Police did not say who reported them missing or who had last seen them.
The mother's body was found on Friday, apparently the victim of a homicide.
"Due to the sensitive nature of this investigation and information continuously developing, we cannot disclose further details on how she was located,"  police said.
Police continue to search for Arianna Fitts, who "is considered at-risk due to her young age and suspicion of foul play."
The child and mother were believed to frequent San Francisco, San Mateo, Oakland, Emeryville, Fresno, Santa Cruz, Silicon Valley and various Southern California locations, police said.
Anyone who sees Arianna Fitts was asked to call 911 immediately.
People with information regarding her whereabouts or anything related to the homicide of her mother were asked to contact the Police Department's Homicide Unit at 415-553-1145, the Anonymous Tip Line at 415-575-4444, or text a tip to TIP 411 with "SFPD" at the beginning of the message.
A GoFundMe page was also established by the family.
Missing 2 Yr Old At-Risk. Mother Found Deceased. Arianna Fitts was last seen on 4/1/16 https://t.co/941uCM1BlK #SFPD pic.twitter.com/PT6PtNE7Fr

— San Francisco Police (@SFPD) April 10, 2016