This is an archived article and the information in the article may be outdated. Please look at the time stamp on the story to see when it was last updated.
The busiest rapid transit rail system in the state could soon become a "sanctuary in transit" for people who are in the country illegally.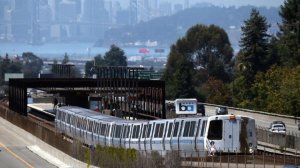 The governing board of the Bay Area Rapid Transit system — better known as BART — may soon consider adopting a policy that would limit its police force from enforcing federal immigration laws. The transit system serves San Francisco and several other Bay Area cities.
"I'm deeply convinced that the train and transit system should not be part of a deportation machine," said Lateefah Simon, a BART board director.
If BART does end up designating itself a sanctuary in transit, it would be the first such agency to do so. But it would join dozens of cities, including San Francisco, across the country that have declared themselves sanctuaries.
Click here to read the full story on LATimes.com.