This is an archived article and the information in the article may be outdated. Please look at the time stamp on the story to see when it was last updated.
A San Gabriel boy was recovering Friday after a doctor removed a live botfly larvae that had burrowed under the youngster's scalp during a trip to Costa Rica.
About a week after the Rindone family returned from their tropical summer vacation, 7-year-old Andrew started complaining about a bump on his head.
"It did hurt a little," Andrew said. "And, it did itch."
The boy's pediatrician thought he had an infection and prescribed antibiotics.
But the bump just kept getting bigger, and a small pinhole began to appear.
Then one day, Andrew was on the couch when his mother saw something that horrified her.
"We kind of noticed something peek out of the hole," Jennifer Rindone said. The small opening was apparently a breathing hole for the larvae growing under Andrew's scalp.
The family rushed Andrew to Children's Hospital Los Angeles.
"I got some forceps. I pulled out a little piece. I said 'hmm, that's interesting,'" Dr. Calvin Lowe told KTLA. "I pulled out this larvae. It just really surprised me."
Andrew's mother said she screamed when she saw what was living under her son's scalp. The doctor admitted he had never seen anything like it.
Andrew said suddenly he was very popular at the hospital.
"About six to eight doctors came into the room … and partied with the botfly, looking at the botfly, taking pictures," Andrew said.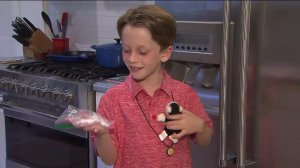 The botfly is not common in the U.S., Lowe said. They are generally found in tropical and sub-tropical regions.
The larvae was safely removed and Andrew suffered no ill effects.
In fact, he kept the unique souvenir from his summer vacation and now calls himself "Bot Man."
"I'm making up a superhero. I'm making up the powers. I'm having a great time with the botfly out of my head," Andrew said.
The family still recommends Costa Rica as a vacation destination but warns travelers to use insect repellent and to cover up from head to toe.