This is an archived article and the information in the article may be outdated. Please look at the time stamp on the story to see when it was last updated.
The community is invited to take part in an annual celebration of aviation this weekend as the San Gabriel Valley Airport in El Monte hosts its Open House and Air Fair.
The free event is scheduled for 9 a.m. through 4 p.m. Saturday and 9 a.m. through 3 p.m. Sunday at the airport,4233 Santa Anita Ave., organizers said.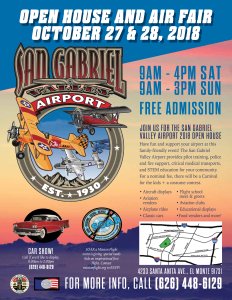 There will be dozens of aircraft on display, a classic car show, food and gift vendors, and for a small extra fee, there will be a kids' play area and petting zoo, San Gabriel Valley Airport Association President Gabe Lopez said. Since the event comes so close to Halloween, a kids' costume contest is also planned.
Aircraft slated to be on hand for up-close inspection by the public include World War II-era planes: a B-25 Bomber, a P-51 Mustang and a one of only two remaining airworthy Japanese Zeros, Lopez said.
The organization Mission Flight will also be at the event to provide special needs children with free flights intended to provide inspiration, he added.
The festivities are meant to help introduce young people to the world of aviation, Lopez said. "Basically, to give a spark to the kids," he said.
More information is available by calling the San Gabriel Valley Airport at 626-448-6129.