This is an archived article and the information in the article may be outdated. Please look at the time stamp on the story to see when it was last updated.
A little girl from San Luis Obispo is raising money for the Wildland Firefighter Foundation after she heard about the death of Escondido firefighter and father Cory Iverson, who died last week battling the Thomas Fire.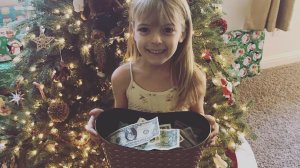 In a video posted Monday on Facebook, Faye Segraves is seen sitting behind the $112 she has raised for "people who have lost their daddies in the fire."
Segraves, herself the daughter of a firefighter, kicked off her fundraising efforts by contributing her own money earned doing chores, her mother stated.
The video was posted on the Wildland Firefighter Foundation's Facebook page, along with pictures of Segraves and a link to a MobileCause fundraising page.
Segraves set a goal to raise $1,000 on the site, but more than $3,600 had been raised by midmorning Tuesday.
The Wildland Firefighter Foundation steps in to support firefighter's families who may not receive benefits after a fatality for up to three months, according to a post on the fundraising site.
Iverson died Dec. 14 of thermal injuries and smoke inhalation while engaging in suppression efforts on the eastern flank of the Thomas Fire in the Fillmore area. As of Tuesday, the fire has burned more than 271,000 acres – roughly 423 square miles – in Ventura and Santa Barbara counties, and it's expected to become California's largest wildfire on record.
Segraves told her mother she wanted to help make those who are hurting "a little happier on Christmas."
Segraves' father is currently fighting the Thomas Fire and will likely miss Christmas, her mother said.