This is an archived article and the information in the article may be outdated. Please look at the time stamp on the story to see when it was last updated.
Multiple fires continued to rage across San Diego County Thursday, destroying or damaging at least 30 structures, burning some 10,000 acres and forcing residents from their homes on a day when temperatures soared past 100 degrees.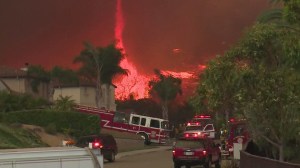 One person was found dead, badly burned, in a transient encampment by firefighters checking a hot spot in the 400-acre Poinsettia Fire in Carlsbad, the city announced at 6 p.m. An investigation was underway.
Meanwhile, in the raging 1,200-acre Cocos Fire, which broke out late Wednesday afternoon, evacuation orders were expanded to include additional areas of San Marcos and parts of neighboring Escondido. A total of 42,000 evacuation alerts had been sent out due to the fire, according to the San Diego County Sheriff's Department. As of 7:30 p.m. the fire was 10 percent contained, according to Cal Fire.
Residents of the Del Dios Corridor and Mt. Israel area of San Marcos were being allowed to return home as of 10:30 p.m., KTLA sister station Fox 5 San Diego reported.
Firefighters faced extreme heat, dense brush and rolling hills in the battle against the Cocos Fire, which San Diego County Supervisor Dianne Jacob called the "active danger" for Thursday.
By early evening, the 6,000-acre Tomahawk Fire, which began burning Tuesday near Camp Pendleton, had prompted new evacuations in Fallbrook.
At 10:45 p.m. the Las Flores Area of Camp Pendleton was also ordered to evacuate, Fox 5 San Diego reported.
At about noon, a roaring tornado of flames exploded close to homes in a neighborhood about a half-mile south of state Route 78 and about 2 miles west the 15 Freeway, according to Fox 5 San Diego. Within a couple hours, at least one large home was consumed by flames, aerial video showed.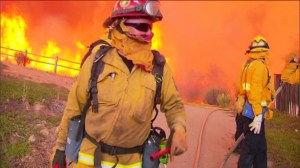 LIVE BLOG: Fox 5 San Diego Fire Updates
"It's creating its own weather pattern there as it sucks oxygen in to continue to burn," said Cal Fire Division Chief Dave Allen at an afternoon news conference.
He told residents to be alert, saying it was not clear which way the Cocos Fire could spread.
Firefighters continued to battling several other blazes in the county Thursday, and nearly 10,000 acres had been scorched, Jacob said.
"We've seen the images, we've been watching those flare-ups. … They are very dramatic," Jacob said.
She urged those under an evacuation order to heed authorities' commands, noting some of the 14 people who died in the 2003 Cedar Fire had failed to leave their homes. At more than 270,000 acres, the Cedar Fire burned more than 2,800 homes and remains the largest blaze in recorded California history.
"If you work or live in that area that's under an evacuation order, please leave. There were people in the Cedar Fire that did not heed the evacuation order and they are not here today," Jacob said. "We don't want any lives lost. That's the No. 1 priority."
In this week's fires, at least seven homes and an 18-unit apartment complex were destroyed, and at least seven homes and two businesses were damaged, Jacob said.
The series of blazes began Tuesday with the Bernardo Fire, which was about 75 percent contained Thursday after burning 1,548 acres in the Rancho Bernardo area, according to Cal Fire in San Diego. There was no danger from that fire, officials said.
Red flag and heat advisory warnings were in effect Thursday, according to the National Weather Service.
A local emergency was declared on Wednesday because more than 20 structures, including homes, had burned in at least five fires.
The declaration allowed the county to more easily access state and federal resources, as needed, to help fight the fires.
The cause of the fires had not been determined, San Diego County Sheriff Bill Gore said Thursday.
"We'll try to do thorough investigations of each and every fire, and try to find out its origin, but to comment before that investigation is done would be premature," Gore said.
As firefighters battled the blazes, officials asked the community to brace themselves for additional fires in the future.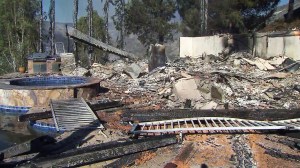 "This is the very beginning of what is promising to be a very long fire season," County of San Diego Deputy Chief Ron Lane said. "We hope all residents of San Diego County are taking stock of what's going on in these fires and reassessing their own personal readiness."
People should be able to evacuate their homes within 15 minutes if told to by officials, Lane said.
Around 2,200 homes were without power Thursday morning, he said. Those displaced from their homes due to the fires were told to visit the county's website at sdcountyemergency.com.
Twenty-two military helicopters joined the efforts to extinguish the fires on Thursday.
Late Thursday, police announced the arrests of a man and a juvenile on suspicion of starting at least two fires in the area of South Escondido.
The first fire was reported around 6:30 p.m. in the area of South Escondido Boulevard, according to a news release from the Escondido Police Department.
The second fire was reported at about 7:25 p.m. by a man who said he saw two people attempting to start a fire in the area of Kit Carson Park, the release stated.
The two individuals were located near the Westfield Mall and taken into custody on suspicion of arson, police said.
One of the suspects was identified as 19-year-old Isaiah Silva of Escondido.
The second suspect was a 17-year-old from Escondido.
It was not known if the pair were involved in any of the other brush fires raging across San Diego County.
Information hotline for the #cocosfire has been established. This phone number is: (562) 708-9631

— Escondido Police (@EscondidoPolice) May 16, 2014
Tomahawk Fire at Camp Pendleton
The Tomahawk Fire was first reported Wednesday morning at Naval Weapons Station before traveling to Camp Pendleton, according to Cal Fire.
It burned 6,000 acres, Cal Fire stated. It appeared to be flaring up on Thursday afternoon, prompting new evacuation orders, the North County Fire Protection District stated on Twitter.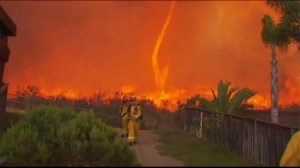 New evacuations in Fallbrook were ordered at about 5:30 p.m., the Sheriff's Department announced.
It was 0 percent contained, a Cal Fire official said Thursday afternoon.
Bernardo Fire near Black Mountain
The Bernardo Fire burned about 1,548 acres of open land west of Black Mountain beginning Tuesday morning.
It was 75 percent contained as of Thursday afternoon, a Cal Fire official said.
Highway Fire in Fallbrook
The Highway Fire in Fallbrook began Wednesday afternoon and burned around 500 acres near Old Highway 395 and Interstate 15 in the Deer Springs area, according to Cal Fire.
It was 40 percent contained as of Thursday morning.
All evacuations had been lifted by Wednesday night.
Poinsettia Fire in Carlsbad
About 400 acres burned by Wednesday night in Carlsbad near McClellan-Palomar Airport, Fox 5 News reported.
Homes and businesses in the fire's path were evacuated Wednesday, according to Fox 5 News.
The blaze was 75 percent contained by Thursday afternoon, according to Cal Fire.
At least 8 single family homes were destroyed or incurred substantial damage in the fire, according to a news release from the city of Carlsbad.
An 18-unit apartment building was also destroyed, city officials said.
All Carlsbad residents were being allowed to return to their homes early Thursday evening, the city stated.
KTLA's Melissa Pamer contributed to this article.
#3rdMAW CH-46s are engaging the #SanMarcosFire #CocosFire now. #CAFire @CALFIRESANDIEGO #SanDiegoFire pic.twitter.com/lBcdsfh9Jp

— MCAS Miramar (@MCASMiramarCA) May 15, 2014
View of the #CocosFire (San Marcos) as seen from @NWSSanDiego. pic.twitter.com/GYR2lZlIPK

— NWS San Diego (@NWSSanDiego) May 15, 2014