This is an archived article and the information in the article may be outdated. Please look at the time stamp on the story to see when it was last updated.
A 27-year-old San Marino woman who was reported missing earlier in the week on Mount Whitney was found dead Tuesday, according to the Inyo County Sheriff's Office.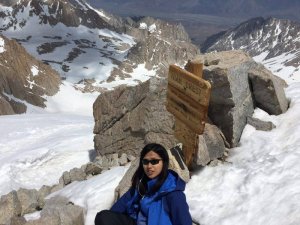 Dongying "Cindy" Qiu's body was discovered Tuesday at the base of a frozen waterfall near Outpost Camp, the office said in a Facebook post. She apparently fell about 60 feet through a snow chute at the top of the waterfall, approximately a quarter mile off trail.
"This is an incredibly tragic situation and based on the extreme snow conditions in the backcountry, this could have happened to anyone," Inyo County Sheriff's Cpl. Nick Vaughn said in the post. "The entire search crew and the Sheriff's Office extend their most sincere condolences to the Qiu family and friends during this very difficult time."
Qiu had been part of a three-person hiking group that set out early Sunday morning to hike the mountain in the Sierra Nevada, which has the highest point in the contiguous United States.
The woman and a male hiking companion reached Trail Crest around 1 p.m., when Qiu decided to head back to the trailhead alone, the Sheriff's Office said in an earlier Facebook post. Another female hiker had turned around before reaching Trail Crest, located at an elevation of approximately 13,7000 fee, sheriff's officials said.
After summiting the mountain alone, the male hiker returned to Whitney Portal around midnight, but was unable to locate Qiu.
Inyo County Sheriff's dispatchers were notified that the woman was missing about 9 a.m. the following morning, according to the post.
Search and rescue teams began looking in the area between Trail and Outpost camps Monday, following a lead from other hikers who believed they saw the woman descending down the mountain alone late Sunday afternoon.
During the initial search, crews located a backpack matching the description of the one belonging to the then-missing woman.
They found the woman's body around noon the next day.
Multiple groups, including ones from Sierra Madre and San Bernardino, aided in search and rescue efforts, while the Army National Guard and California Highway Patrol air operations provided aerial support during the operation.