This is an archived article and the information in the article may be outdated. Please look at the time stamp on the story to see when it was last updated.
Despite the beach still being officially closed, surfers continued to enter the water at San Onofre State Beach Monday after a weekend shark attack left a woman "fighting for her life."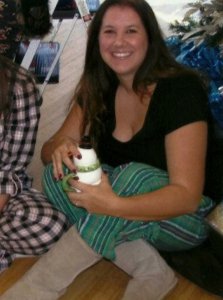 Leeanne Ericson was swimming at the beach Saturday when a shark "tore her right back leg from her glute to her knee," according to a GoFundMe page set up to help pay for her medical expenses.
The victim was airlifted to Scripps Memorial Hospital in La Jolla at about 6:24 p.m., said Marine Corps Installations West-Marine Corps Base Camp Pendleton Sgt. Sorenson.
Sorenson did not identify the victim, but did confirm the shark attack. A hospital spokesman on Monday said Ericson was in critical condition.
Ericson was described on the GoFundMe page as a single mom with three young children who is now "fighting for her life" with "several surgeries to go," according to the post. The fundraising effort was verified as authentic by a GoFundMe official.
A family friend told television station KFMB in San Diego that Ericson was at the beach with her boyfriend when she was attacked.
"He was surfing and she was swimming, and I guess he heard her scream," said Ericson's friend Laura Smith. "He jumped in … and went in looking for her and found her down on the bottom and brought her up."
He paddled into shore with her and tied the board's leash around Ericson's leg to stop the bleeding, Smith told the station.
"If it wasn't for him she wouldn't have made it," Smith said. "He truly save her life."
Multiple witnesses rushed over to help, the Orange County Register reported.
"All of the back of her leg was kind of missing," Thomas Williams, a San Clemente resident who helped, told the Register.
Ericson was conscious when she was airlifted but remains in a medically induced coma, KFMB reported.
Chris Lowe, director of the Shark Lab at Cal State Long Beach, told the Register a great white or seven-gill shark likely caused Ericson's injuries.
A portion of the beach handled by the Orange Coast District of California State Parks will remain closed until Tuesday, pending any more sightings or incidents, State Parks spokesman Todd Lewis said Monday.
The Camp Pendleton portion is expected to remain closed until Wednesday, according to a news release issued by the base Monday.
Despite the continued closures and several "shark warning" signs along the beach, several surfers were seen in the water Monday.
Correction: An earlier version of this story incorrectly stated the beach had reopened on Monday. The post has been updated.