This is an archived article and the information in the article may be outdated. Please look at the time stamp on the story to see when it was last updated.
A 15-year-old baseball player for San Pedro High School was in serious condition Sunday night after being assaulted after a game last week, officials said.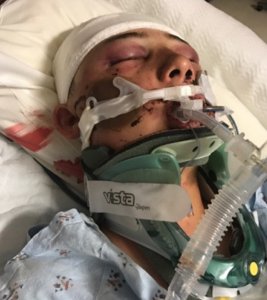 Evan Jimenez was assaulted by two males in the 900 block of West 2nd Street about 10 p.m. Thursday, Los Angeles County Sheriff's Lt. Tony Del Pinto told KTLA. According to a GoFundMe page created to help pay for medical expenses, Jimenez and his team won a game against Gardena High School earlier that day.
Pinto had originally said the assault was on West 1st Street, but the sheriff's department amended the address in a later news release.
Jimenez was walking home from a friend's house when the attack happened. He was hit over the head and in the face with a glass bottle, stepped on and "beaten beyond recognition" and left unconscious, according to the GoFundMe.
The victim was also choked by the men, described by the Daily Breeze as gang members. No suspects have been identified or arrested.
It is unclear what led to the attack.
A vehicle pulled into the alley where the victim was and took the teen to Little Company of Mary Hospital in Torrance, but he was eventually transported to Harbor-UCLA Medical Center, Del Pinto said. The person who dropped him off at the hospital did not identify themselves, the newspaper reported.
According to the GoFundMe, Jimenez, a freshman who plays on the junior varsity baseball team, had just attended the funeral of Jesse Esphorst Jr., a fellow baseball player in Torrance who was killed in a multi-vehicle crash.
"This funeral had a heavy impact on Evan," the page reads. The creators want to help Jimenez's mother pay for medical expenses.
Officials are investigating the assault. Anyone with information can call the sheriff's department Lomita station at 310-539-1661.
KTLA's Irving Last contributed to this story.